Section Branding
Header Content
Pope Looks To Build Off Playoff Momentum
Primary Content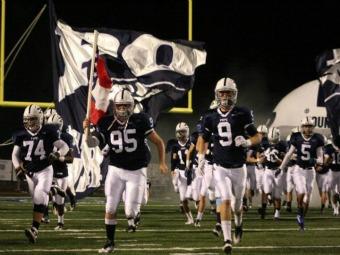 With high school football right around the corner, the Pope Greyhounds are looking to build on last year's successful season. With the reclassification of high school sports, Pope will now compete in Region 7-AAAAA, which returns only two teams with winning records from a season ago.
Greyhounds coach Matt Kemper doesn't believe this will affect the team's chances of succes.
"It doesn't change a lot," said Kemper. "We are playing a lot of the same teams, so it will still be tough."
With a 9-1 record in the regular season last year, Pope suffered its only loss at the hands of crosstown rival Kell. This marked the seventh straight loss to the Longhorns, and Kemper is hoping to quickly end this streak. If Pope can get past the Longhorns, the region sets up nicely for another run into the playoffs.
Following the program's first playoff win in 11 years, the Greyhounds look to advance even further this year. Losing starting quarterback Holland Frost will be tough.
"Several people will have to step up," admitted Kemper.
One of those will be Brooks Climmons, the leading rusher from last season.
"He is going to have to carry the load a lot more this season," revealed Kemper. "As a 600-yard rusher last season, he will be key for us this year."
At quarterback, the Greyhounds have three options in Stephen Skruck, Sam Yarborough and Brett Lyle. According to Kemper each has his strengths, but none can replace the production lost with Frost. Skruck is the only one of the three who has varsity experience, leading the team to a 27-24 victory over Osborne in double overtime.
With uncertainty under center to start the season, the pressure will be on the offensive line to protect the quarterback and maintain their blocks to allow the offense to develop. As the season moves along, look for one of the quarterbacks to establish himself as the leader and to develop chemistry with rest of the offense.
On the defensive side of the ball, Sean Hatcher returns as a three-year starter at linebacker and looks to anchor the defense.
"He is in line for an all-county type season this year," said Kemper.
This should allow the defense to help protect an offense that will be led by a young quarterback. The defense should also be more experienced this season, allowing for more consistency.
While winning a playoff game last year was an improvement, the senior class is looking to leave its mark. A deeper run into the playoffs would do just that and would help establish a tradition of playoff success. This season looks promising for the Greyhounds, and the coaches and players are looking forward to teeing it up on Aug. 31 against Marietta.
Secondary Content
Bottom Content