Section Branding
Header Content
Clarke Central Will Count On Johnson
Primary Content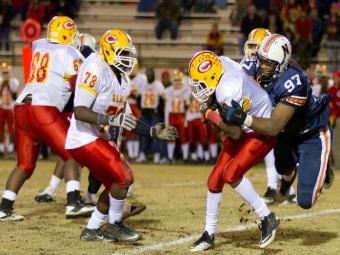 Composure is typically not the strength of a young football team, but the Clarke Central Gladiators could be the exception to that in 2012. Leroy Ryals is entering his sixth season as the head coach and comes into 2012 fresh off a string of five consecutive playoff appearances.
Last season's success was driven by a rising star in Cameron Johnson, who quarterbacked the Gladiators to a 10-2 record and share of the region title as a sophomore. Johnson took over for the former Gladiators standout Martay Maddox, who joined Steve Spurrier's Gamecocks after going 11-1 in 2010. In Johnson's first season, he was able to generate numbers comparable to Maddox.
"The poise of Johnson last season as just a sophomore was really what impressed me most about him," said Ryals.
Being composed in pressure situations is one of the most valuable assets a quarterback can have, and Johnson may have developed his poise on the basketball court. Johnson, who stands 6-foot-3, is still filling out his frame, and has already turned into an excellent basketball player. Ryals points to the hardwood as preparing him for the spotlight last season.
"Johnson is a great basketball player and was used to competing before he stepped in for us last year," said Ryals. "I would give his mother, who is an excellent basketball coach, a lot of credit for the great mental approach he has to both basketball and football."
Ryals can recognize what the young Johnson and his team went through last season by comparing the year to how his successful coaching career began. At only 24-years old, Ryals received his first head coaching job at Booker High School in Florida and became the youngest head coach in the entire state. If anyone can help prepare a young team, it is Ryals.
In 2011, the Gladiators were in an 11-team region and played the entirety of their schedule in region play. GHSA reclassifications have bumped them up into Region 8-AAAAA and now with a region of nine teams, they will get two non-region matchups to start the season. Ryals and the Gladiators will open up against Marist and Central Gwinnett before jumping into eight straight region games to close the season.
"It will be good to play two tough opponents that can prepare us for the region," said Ryals. "We have to take advantage of those games and we have to use them to get better."
The big loss for the Gladiators is 2011 running back Quenshaun Watson who will be with the Tennessee Vols this year. Without the speedy Watson threatening the defense, Johnson will have to accept his higher rank in this offense.
Senior Jalani Payne and Cedar Shoals move-in Rodney Willingham will both star in the Gladiators backfield this season and have enough talent to match the productivity of last year's backfield. Defensively the Gladiators are stout and will be improved from last season.
Johnson is the core of a talented class of juniors that will lead both sides of the football for the Gladiators in 2012, and Ryals is excited for the upcoming season and the future of the Gladiators.
"We have a lot of juniors starting for us this season, but the thing is they are all experienced. We've got a lot of talent returning this year."
The Gladiators open up against Marist Aug. 31 and will only get more dangerous as this unit grows.
Secondary Content
Bottom Content