Section Branding
Header Content
The Great Georgia Prep Football Debate
Primary Content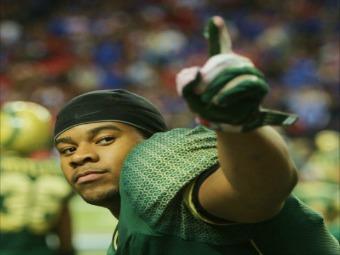 Stephen Black and Fletcher Proctor break down the Georgia's great debate of where the best high school football takes place. Black argues the best football is found below Macon while Proctor says that talent lives in metro-Atlanta and talent is king.
HEADED SOUTH
High school football is what we do here. In South Georgia, it is the big game in town. While Atlanta has their pro sports and Athens boasts the Dawgs, we prefer our high school pigskin.
Beginning with Fitzgerald's state championship in 1948, the southern half of the Peach State has been dominating high school football in Georgia. And this part of the state has done it without the benefit of large cities or gobs of money. The good people of this part of the state have done it with guts, passion and hard work.
Year after year, South Georgia programs compete for and win state titles. Year after year, players from this part of the state are recruiting by the best programs in the nation, and generally go on to star for them.
And, while metro Atlanta high school football is generally dominated by the goliath AAAAAA programs and the elite private schools, South Georgia wins at all levels and the programs here do it with kids from their districts, not imports from other towns and counties.
Lowndes County alone boasts 26 state titles between Valdosta and Lowndes, who toil in the state's largest classification. The Wildcats and Vikings have done while toiling in the state's toughest classification, the SEC of high school football, Region 1-AAAAA. This year, Camden County enters the region to make it even tougher.
Meanwhile, in Region 2-A, Charlton, Clinch and Wilcox have combined for eight state titles in the past 13 years.
Meanwhile, in AAA and AAAA, Peach County, Thomas County Central and Statesboro have made the state their playground in recent decades, each taking home multiple state titles.
As Georgia heads into a new era of reclassification, high school football fans in the state can expect South Georgia to have programs winning at the highest level in all classifications. And, perhaps the best thing about South Georgia football, all of those schools will be using players who are from their school districts, born and raised.
ATLANTA: HOME OF THE TALENT
When the topic of where the best football in the state is played, the discussion always tends to devolve into South Georgia vs. "North Georgia." North Georgia in this case is code for metro-Atlanta schools.
As fun as the argument can be, there really isn't an argument if you take an honest look at the Georgia high school football landscape since 2000. Lowndes and Camden County have combined to win six titles since 2000, the same number as Buford and Buford alone. Parkview, Brookwood, Peachtree Ridge and Grayson have each brought state titles back to Gwinnett County, with Parkview pulling home three. For the record, Brookwood beat Colquitt County for the 2010 Class AAAAA title and Grayson took out Colquitt County in the 2011 Class AAAAA semifinals.
The thing that truly separates "North Georgia" from South Georgia is sheer talent. If one were to just look at Gwinnett County, he or she would see the nation's top player in Grayson's Robert Nkemdiche, who is back for a run at another state title. North Gwinnett is seemingly always in the state title discussion, and Norcross, South Gwinnett, Central Gwinnett, Dacula, Mill Creek, Archer and Collins Hill have each had moments of late and should make noise once again this year.
Perhaps Cobb County is your flavor. Walton will be featured on ESPNU this season after appearing in the Class AAAAA state title game last year. Lassiter has athletes bursting through the seems after making a run to the semifinals last season. Both East Cobb powers have quarterbacks with BCS commitments with Walton's Parker McLeod headed to Alabama and Eddie Printz committed to UCLA. And Anthony Jennings is headed to LSU after playing for Marietta this season.
That star power isn't enough for you? How about Milton's Carl Lawson, ranked the No. 5 player in the country in the ESPN 150? What about Elite 11 finalist Joshua Dobbs of Alpharetta?
Did you catch how many players Stephenson had sign letters of intent to BCS conferences this past February on National Signing Day? Did you happen to be sitting in Tucker that same day when the Class AAAA champs held their signing ceremony? I was there and I sat there for a long while. ML King, Columbia, Cedar Grove, it was the same thing.
History is one thing that South Georgia has, but after a while, it may be time to start looking at titles earned before the internet was created as not as impressive as ones earned in recent years. You can respect history, but you should also respect the game as it is today because this is truly the golden age of Georgia high school football.
Secondary Content
Bottom Content