Section Branding
Header Content
Kell Standout Pledges To South Carolina
Primary Content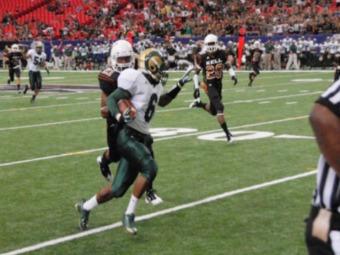 Kell's Brendan Langley surprisingly committed to South Carolina Wednesday. In a press release, Langley praised the beauty of the state, the "control" Steve Spurrier has over the program and the school for being "an SEC monster." Here is more from the press release: "After a lot of thought and prayer, I'm more than proud to accept a scholarship offer from the University of South Carolina. ... The SEC is the best conference in college football. South Carolina is a beautiful state. The university is an SEC monster as well as a national contender and I can't wait to help them reach another SEC title and even a national title. I can't wait to play for a coach with such experience and control as coach Spurrier." Langley chose South Carolina over Georgia, Alabama, Tennessee and UCLA. You can catch Langley later this month at the 2012 Corky Kell Classic.
Raekwon McMillan of Liberty County named a top two of Georgia and Ohio State recently. The junior linebacker visited Columbus over the weekend for the Buckeyes' "Friday Night Lights" program for recruits and came away impressed with the program. In addition to his two favorites, McMillan has offers from Alabama, Auburn, Florida, FSU, Georgia Tech, LSU, Notre Dame, South Carolina, Texas and a host of others.
Mays senior wide receiver Deangelo Yancey committed to Kentucky Tuesday over offers from Ole Miss, NC State, Wake Forest and others. In 2011, Yancey had 28 catches for 561 yards and seven touchdowns.
Jackson DL Jay Woods told UGAsports.com he would commit to his school of choice prior to his football season starting. "I've been talking to my parents and coaches, and I feel I want to make a decision before the season," he said. "I want to get it out of the way so I can focus on the season, so probably sometime in August. I just don't know when yet." Woods has narrowed his list to Georgia, Georgia Tech, Clemson, Missouri, Vanderbilt and Kentucky. In addition to his final six, Woods sports offers from Arkansas, Cal, Michigan State, Nebraska, South Carolina and Southern Cal.
Secondary Content
Bottom Content