Section Branding
Header Content
Roswell Football Looks To Rebound In 2012
Primary Content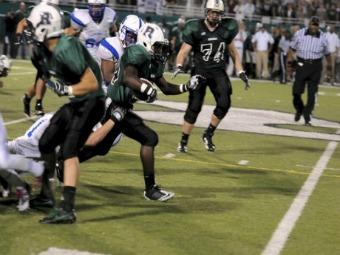 Last year was a rough year for the Roswell Hornets. Just five years after winning a share of the Class AAAAA state title, the Hornets went 0-10 under first-year coach Justin Sanderson. The Hornets were close to notching several victories last season, but they were edged by Collins Hill (24-21), North Forsyth (24-21), Centennial (32-30) and Milton (14-13).
Now, as Roswell seeks to end an 11-game losing streak dating back to 2010, plenty of players return to both sides of the ball with an hunger for success.
"The players have shown great leadership and have worked hard everyday to improve themselves and get the bad taste of 2011 out of their mouths," said offensive coordinator John Ford. "There is renewed focus and a tremendous sense of urgency displayed each day."
Ford will have plenty of experience back on his side of the ball as eight starters return. Quarterback Ryan Monty and tailback Andrew Kwateng both return to starring roles in the Pro-I, play action-based offense. Three starters from the offensive line return in Zach Adams, Justin Auer and Kevin Austin, as well as Patrick Partain, who was a starting defensive lineman last year who made the move to offensive line during the spring.
Monty will be looking to familiar targets Bennett Barton and John Albert at wide receiver and Bernie Arowoselu at tight end. Arowoselu started five games last year.
"We will be young on offense at fullback, as we break in a new starter," said Ford. "We will have young depth at wide receiver, tailback and on the offensive line."
Defensively, the Hornets gave up 32 points per contest last season. Five starters return from last year's unit. Up front, Hunter Hill will man one of the tackle spots while Patrick Sheehan, who played center in 2011, will slide outside to defensive end. Richard Delphin returns at linebacker and the Hornets will move safety Grant Beidel closer to the line of scrimmage to play linebacker. The secondary will be headlined by free safety Alex Brandeis and cornerback Obos Ikpefan.
"We will be replacing starters at safety, corner, one of the linebacker spots and on the defensive line at end and one of the tackle slots," said Ford. "They will be talented but young in those spots. Hill, Beidel and Brandeis are in a good position to have strong years."
The offensive line should be a strength of the attack, despite the loss of Alex Porter and Panchito Blanco. The Hornets should be able to create plenty of time for Monty to find his receivers.
"The offensive line has a lot of starts under their belt and Arowoselu has worked hard this offseason," said Ford. "Offensively, Kwateng, Barton and Albert should have very good years. We will have a good mix of veterans and youth."
Will Roswell have the opportunity to snap the 11-game losing streak early or could the streak fester? The Hornets have moved up in classification to Region 5-AAAAAA but face familiar foe Centennial at home to start the season. Last year the Knights needed a late field goal to top the Hornets and Roswell has not forgotten.
"In understand its a cliche, but we are just worried about Game 1 right now," said Ford.
Roswell will face two addition Region 6-AAAAAA opponents before opening up the region slate on the road at Milton Sept. 21. If the Hornets can spring an upset of Milton in the region opener, the schedule opens up in October before Lassiter and Walton await in November.
"They are competing and working to win each day and have a bounce-back campaign in 2012," Ford added.
Secondary Content
Bottom Content