Section Branding
Header Content
Townson Named New Jackson Basketball Coach
Primary Content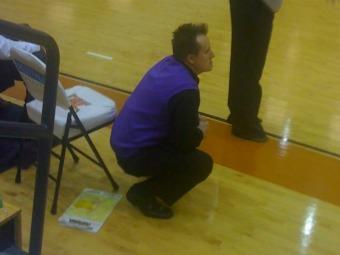 The Jackson Red Devils girls basketball team will have a new face roaming the sidelines come opening night Nov. 24 when Jackson welcomes Spalding to open the season. Mike Townson will make his basketball head coaching debut for Jackson this year after serving as an assistant at Banks County, Hart County and most recently Monroe Area. Townson is no stranger to being a head coach, though, as he has been a head soccer coach for years as well as an assistant football coach, but basketball is his first love.
"I'm excited to be taking over a program with some success," said Townson of the Jackson position. "I'm very eager. I've always wanted to be a head coach."
Townson hopes to bring some stability to the Jackson program, which he said reminds him a lot of Hart County.
"I see a lot of similarities (with Hart County)," said Townson. "I spent five great years there under Jim Burch and learned so much."
Townson lists Burch as well as North Georgia's Chris Faulkner and East Hall's Joe Dix as coaching influences as he prepares to bring a high tempo offense to Jackson, much like Dix runs with the Vikings.
"We'll run an up-tempo offense," said Townson. "We'll run, jump and press. But we'll also have to execute in the halfcourt too."
Despite being hired on late in the process, Townson has already put his stamp on the program.
"A lot of our girls had never been to a camp or even out of Butts County to play basketball," said Townson. "It is going to be an experience."
He did note that he has been really impressed so far with his players, whom he calls "athletic with size and ball-handling." The Red Devils have taken part in two tournaments after practicing throughout June. Townson estimated that 24 players came out for early practices, including 12 rising freshmen.
"We have four returning seniors and only one junior, but our freshmen and sophomores look strong," said Townson. "All of the freshmen look pretty solid and they are getting better every day. Hopefully wins come with it."
Jackson has gone a combined 6-43 over the past two seasons, but Townson believes that will soon change.
"A lot of these players had success in middle school," said Townson. "I can see three or four playing at the next level. Hopefully we will be athletic."
Jackson may benefit from a light region. In the new 2-AAA, only three teams made the playoffs one year ago and only three finished with winning records.
"Hopefully we can improve each year," said Townson.
With Townson now focused solely on basketball, look for the first-year head coach to soon have a young Jackson squad clicking towards postseason play.
Secondary Content
Bottom Content