Section Branding
Header Content
DeKalb Coaches Confident At Media Day
Primary Content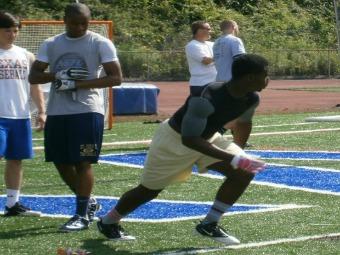 A quiet calm filled James R Hallford Stadium Wednesday afternoon. The stadium concourse was crammed with high football school teams from DeKalb County.
Clean jerseys could be seen, from the St. Pius X white and gold to the dark red of state champion Tucker. There was talk of new weight rooms, sophomores stepping up and pads cracking at two-a-days.
One feeling was for certain at DeKalb County football Media Day, Friday night football in Georgia has officially returned.
Ronald Gartell, Stephenson Jaguars head coach, seemed raring to go after last year's playoff exit to Lowndes. The team finished 9-2 and looks to push for a playoff berth come November.
"It's a little scary this year," said Gartrell. "We got 18 that left us from last year. We're looking forward to it, though. We've been able to reload over the years, our middle school won the championship. We've got a lot of young players, they just have to grow up fast."
The Jaguars' offense will start with UCF pledge Justin Holman, but Gartrell said the defense may carry the 2012 Stephenson team.
"Our secondary, we got two guys, one committed to South Carolina, one that's been offered by at least four other SEC schools," said Gartrell. "Our goal is to be competitive in every game. We feel like if we play up to our capabilities and do the things that we do, we have a chance to win every game."
St. Pius X may be half an hour drive from Stephenson, but the teams share a similar playoff pain. These teams have been so close to bringing home a state title to their communities, yet they cannot seem to assuage playoff heartache.
The Golden Lions finished last season with a 12-1 record. The one loss came in a 21-0 defeat at the hands of Cairo. The Lions have been sent home from the Class AAA quarterfinals two of the past three seasons, each in the friendly confines of George B. Maloof Stadium. Despite this pain, persistence is the mentality for the Golden Lions.
"We're getting prepared the same way we have always gotten prepared," said coach Paul Standard. "We have Ryan Braswell, Nick Ruffin, Nick Glass, Jack Pelt and Brandon Mitchell, two kids who have great summers who will get a lot of time."
Standard flexed three fingers and counted the program's goals.
"Play for a region championship, go as deep as we can in the playoffs and win a state championship," Standard said.
The Lakeside-DeKalb Vikings will enter 2012 with a new weight room, practice field and head coach. The Vikings did not win a game last season, but Mike Rozier wants his fan base to forget about and honor the past.
"I'm excited about being at Lakeside," Rozier said. "It will be an extremely tough challenge with the region (6-AAAA) we play in. I try to tell Lakeside people to forget about the past and remember the past. In the 70's and 80's and 90's, Lakeside was the team the beat. I also told them to forget about the past. There is nothing you could do about the last five years, you just got to move forward and get it going."
Secondary Content
Bottom Content