Section Branding
Header Content
Centennial Shows Improvement After Camp
Primary Content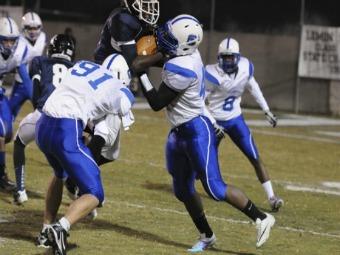 The Centennial Knights returned Tuesday from a three-day football camp in Hayden, Ala., where the Knights received instruction from legendary Alabama high school football coach Perry Swindall. Centennial head coach Jeff Carlberg was quite pleased with the experience and how his team improved during the trip west.
"It was a great experience," said Carlberg. "It was a really good opportunity to get individual instruction and attention for our players that wasn't necessarily scheme related."
The Knights would participate in two workouts each day, a three-and-one-half hour workout in the morning then a two-and-one-half hour workout in the evening with a competition following the evening practice. Carlberg said it was good for the team to have the practice time, and he could tell it helped the linemen.
"It was the first time we have worked with the big guys since spring ball," said Carlberg. "It was good to see them do extended learning."
Because the 7-on-7 camps do not feature either offensive or defensive linemen, the "big uglies" were relegated to mere weightlifting and light drills during most of the early summer.
"It was nice to see the light bulb coming on for some of them," said Carlberg. "They were able to really excel with the rudimentary football fundamental drills."
The experience was most beneficial for the defensive line said Carlberg.
"The D-line had a really good week going against some offensive lines from other teams," gushed Carlberg. "We have the ability to be a pretty good defensive line if we keep working and live up to our potential."
The back seven has been working hard during the 7-on-7 season and has also been making progress. The coaches were able to continue to bond with the linebackers and defensive secondary according to Carlberg.
Several players stood out during the camp including quarterback Chase Rosenberg and wide receiver Christian Robinson, who Carlberg said improved even after entering the camp as really talented receiver. Carlberg also noted that the offensive line made a lot of improvement, especially Vincent Calhoun, who is really becoming solid with his work in pass protection.
Carlberg also mentioned Caleb Howard's and Drew Blesse's performances while crediting the entire defensive line's play. Overall he said he was impressed with how everyone attacked the camp and seemed to improve some aspect of their game.
Now the Knights will turn their attention to the upcoming Lassiter 7-on-7 camp. This will be the fifth year the Trojans have hosted the camp after Chip Lindsey started the event during his time in East Cobb when Carlberg served as his defensive coordinator.
"Jep Irwin has really expanded it, and it is a nice tournament," said Carlberg. "We are excited about the opportunity to go compete."
In addition to Lassiter and Centennial, Alpharetta, Kell and Hoover (Ala.) will be a few of the teams to take part in the event this Friday and Saturday.
Secondary Content
Bottom Content