Section Branding
Header Content
Apalachee Football To Lean On Experience
Primary Content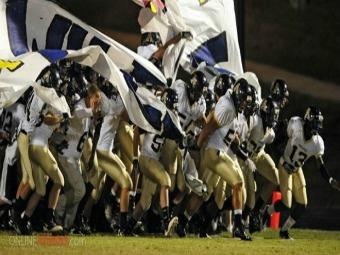 The Apalachee Wildcats started the 2011 season 0-4 with all four losses coming against Region 8-AAAA foes. The Wildcats would rally and win four of their last six to enter the 2012 season with a bit of momentum and a lot of experience.
"I don't know if I'd consider us a veteran team," admitted Apalachee head coach Shane Davis. "We have some spots where we have experience. We're certainly a veteran team when you compare us to the last few years."
The Wildcats made the playoffs each year from 2006-09, including a 12-0 start to the 2009 season before falling in the third round of the playoffs as Region 8-AAAA champions. This year Apalachee will be in Region 8-AAAAA with Flowery Branch, Clarke Central, Heritage, Loganville and newcomer Gainesville.
"Any time you pick up Gainesville, (the schedule) is going to be tough," said Davis. "There are lots of recent region champions in our region. It is a very tough region."
Davis wouldn't call the region the toughest in the state, but he did make the case that it is one of the deepest in the state.
"Week in and week out, I would like to see a tougher region than ours," said Davis. "It really prepares you, but it takes a toll mentally and physically getting up each week for these types of opponents."
The Wildcats will be playing the 2012 schedule without UGA-bound running back Stanley Williams, who was suspended indefinitely from the team before the 2011 season finale. Williams, who rushed for 891 yards and 13 scores last year as a sophomore, has since enrolled at George Walton Academy. He scored 24 touchdowns in his two years with the Wildcats. Davis is no stranger to replacing great backs, though, as his Wing T offense churns out some big numbers for fullbacks and wingbacks.
Zay Henry returns at the wingback spot for Davis after rushing for over 800 yards in each of the previous two seasons. Henry was last seen toting the rock for 186 yards and two scores on 23 carries against Loganville during Williams' suspension. He will be joined by Eric Tanner at fullback and Clint Ashe under center. Ashe is a three-year starter, and, unlike most Wing T quarterbacks, Ashe can throw it around, having passed for more than 1,000 yards one year ago. Rising senior Jermaine Smith racked up 500 receiving yards last year.
The backfield trio of Henry, Ashe and Tanner will be running behind some experience as the Wildcats return five of six starters on the offensive line. Josh Doman will return at left guard along with Johnny Thompson at right guard. Joseph Goss and Tyler Cash will return to their tackle spots while senior Austin Miller returns at tight end.
Defensively, the Wildcats will return to their 4-3 base with Thompson leading the line from the end spot. Davis estimates Thompson to have five offers while former end Rakim Peters, who has shifted to linebacker, has close to 20 offers. Peters will join fellow three-year starter Chris Morris and Cory Hunt to make up the linebacking unit. Morris will play in the middle while Hunt will man the weakside after moving up from his spot last year at strong safety. Von Heard and Smith will start at cornerback while junior Jody Mathis will start at safety.
Apalachee will travel to Elbert County for a scrimmage on Aug. 17 before opening up the year with two non-region games, first against Lanier on the road on Aug. 31 then at home against GAC Sept. 7. The Wildcats will be working hard right up until the trip to Lanier according to Davis. The Sept. 27 game against Clarke Central can be seen on WSB.
"We need to get into shape to go through this season," said Davis. "We've got to make sure we're running hard through the summer and into the season."
Secondary Content
Bottom Content