Section Branding
Header Content
NFL Stars Lend A Hand At Youth Camp
Primary Content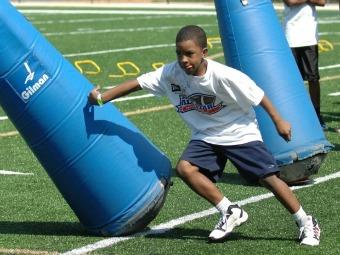 Atlanta-based sports agent Todd France held his ninth annual football camp this week at Mt. Vernon Presbyterian School. France is recognized as one of the finest sports agents in the country and heads 5 Star Athlete Management. Through France's extensive and profound list of NFL clientele, he was able to bring 55 of his NFL clients to this year's New Era football camp.
More than 1,000 kids, ages eight through 18, took part in the camp this week. The event was free for kids and they all received a camp T-shirt, many of which were filled with autographs by the end of the camp. The purpose of the week, according to France, is to remind his clients how important it is to give back to the community and provide the kids with a one-of-a-kind opportunity to interact with and learn from NFL players.
Competitive Edge Sports (CES) allows the camp to use its state-of-the-art equipment all week and brought in eight trainers to help coach drills alongside the pros. CES is based out of Atlanta and is one of the country's premier training facilities for the NFL Combine. The same laser timing equipment used for the combine was set up to clock the campers' 40-yard dash times. Resistance cords, tackling dummies and agility ladders were among the other pieces of equipment being used at the camp.
France and 12 of his NFL clients were present on Tuesday. Much like he does each week during the NFL season, France watched proudly as his clients took to the field. France said he always likes to choose clients who he feels are special as a person first and then as a player. He strives to find guys who will work to continually improve on and off the field.
"It doesn't take me long to see if someone has the type of character I look for," said France. "Today is about the kids, though. The kids are the stars at this camp. What they are getting out of today is more than football knowledge. They are getting a chance to interact with all of these NFL players and see what great guys they are."
After the pros introduced themselves Tuesday morning and the first stations were whistled to begin, the kids sprinted and bulldozed their way to the front of the line for a chance to impress their football heroes. With more than 12 stations rotating throughout the day and plenty of lines going at once, each kid got several opportunities at each station.
Current San Diego Chargers running back Ronnie Brown took a break from carrying the ball Tuesday to quarterback his drills. It is no surprise that the former No. 2 overall pick from the 2005 draft was able to throw the ball well. While Brown was leading Cartersville High School to a state title during his senior year, he was an impressive enough baseball prospect to be drafted by Seattle Mariners. Brown's calling turned out to be at running back and his former Auburn teammate Carlos Rogers was at camp on Tuesday as well.
Rogers attended Butler High School in Augusta and is currently a starting cornerback for the 49ers. Rogers and Brown were both superstars during their high school days in Georgia and went on to have impressive careers at Auburn together.
The two would enter the 2005 NFL draft together and after Brown went No. 2 overall, Rogers quickly followed as the No. 9 overall pick. The 2005 draft alone contributed to the eruption of recognition that continues to grow around France.
The camp was a long way from Rogers' San Francisco 49ers, but not far from home. "Atlanta is home," Rogers said. "I only had to drive a few minutes to get here this morning." Rogers will report back to San Francisco next month and said he sincerely enjoys coming home to this camp each year.
"I have a great relationship with France, and we both understand how important it is to contribute in the community," said Rogers. "Our relationship goes back to before I was drafted. He really seemed to stand out as someone who cared about his clients and what we do as members of the community."
Lomas Brown, one of the NFL's all-time greatest linemen, was at the camp Tuesday. Brown's last two NFL contracts were negotiated by France, and he has remained a client while working as an analyst for ESPN and the NFL Network.
Brown has attained success at every level and is considered by the Florida High School Athletic Association to be one of the 33 all-time greatest Florida high school football players in the past 100 years. He was first-team All-SEC and a consensus All-American at the University Florida. In the NFL, he was a seven-time Pro Bowler and paved the way for possibly the greatest running back of all time, Barry Sanders.
Brown ended his 18-year NFL career by winning his only Super Bowl championship in his final season with the Tampa Bay Bucs in 2002. Always surrounded by personal achievements and success, Brown continuously established himself off the field and is considered one of the more charismatic and positive role models that the NFL has seen.
Brown believed in the importance of giving back to all facets of the community, not just the kids but other athletes as well.
"With all that is going on these days with the former players suing the NFL, and players going broke after leaving football, it is as important as ever it has ever been to start developing the off- the-field right away," said Brown. "Football has and always will be a major part of my life, but I've always tried to make sure I was doing positive things off the field along the way."
The kids got the opportunity of a lifetime when Brown showed them how to properly explode out of the three-point stance, and drive through the bag.
"I have so much fun working with kids," said the 49-year-old. "But I will be getting out of bed a little slower tomorrow after all these drills."
Redskins linebacker Keyaron Fox helped with the 40-yard dash station. Fox was an outstanding player at Georgia Tech and the Atlanta native went to Westlake High School. Fox was on the 2009 Steelers team that won the Super Bowl.
Former Dunwoody High School star and Jets wide out, Dexter Jackson, took a break from Tebowmania in New York to coach the kids through one-on-one route running.
Columbus native Philip Wheeler played linebacker for Georgia Tech before buckling up with Oakland. Wheeler showed the kids how to shed a block and explode through a tackle. The kids appeared to enjoy tackling the dummy the most out of all the stations. After making a tackle, players would act out the dances, salsas and celebrations they see when they are watching the NFL.
Daryl Smith, Geno Hayes, Joe Burns, Zack Pianalto, Pat Sims and Brandon Burton were other NFL players in attendance on Tuesday.
Secondary Content
Bottom Content