Section Branding
Header Content
Collins Hill Looking For More In Playoffs
Primary Content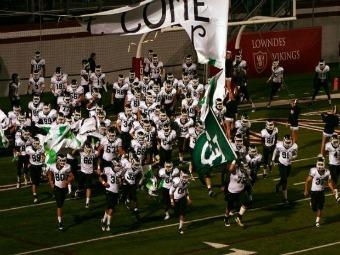 The Collins Hill Eagles made it to the playoffs for the fourth-straight season last year, but coach Kevin Reach is determined to get to the next level this year.
"We have been a good team so far, but we are trying to get to that next level to be a great team," said Reach. "In our region everybody is so tough. It's kind of like the SEC of high school football. It's a really tough region (7-AAAAAA) to play in."
Nevertheless, Reach feels confident as quarterback Brett Sheehan is back for his senior year. Reach noted Sheehan has done everything the coaches have asked of him and works very hard.
"The best thing about him is that he is a good team leader," said Reach. "I feel it is important for a team to have that leadership in a quarterback."
Sheehan recently pulled an abdominal muscle in a 7-on-7 tournament, and while Reach said he could play if the season started tomorrow, he is not taking any chances in several upcoming passing tournaments. Backup quarterback Conner Wallace will be receiving some crucial summer reps with the first-team offense in the passing camps. Wallace showed he was up for the challenge, leading the Eagles to the Auburn Tiger Invitational tournament title several weeks ago right after Sheehan first sustained his injury.
"You are only as good as your backup quarterback," said Reach. "We are happy to have (Wallace), he has gotten a lot better."
That said, Reach also noted that there will not be a quarterback controversy once the season starts as Sheehan, an FIU pledge, will be under center when the Eagles open up the 2012 season at home against Central Gwinnett.
The Eagles' offensive line will be comprised of four seniors with the fifth spot occupied by junior Christian Harris, who is perhaps the best of the bunch. Reach said he is counting on the 6-foot-6, 270-pound Harris to be a leader on the line, despite his age. Nathan Kinjo and Marshall Sutton are both returning starters on the offensive line for Reach.
Reach runs a spread offense and will be looking to replace Nick England, last year's star wide receiver. Expect Julian Williams to be the go-to receiver for the Eagles.
"It's amazing what a year can do to a kid," said Reach. "He's probably had the biggest change of anybody in my 23 years as a coach."
Reach said Williams has worked on his body to help offer Sheehan a viable target on the outside. Rhyan England and Grant McDoland will also be featured wide receivers.
"I feel those three are going to be our key guys," said Reach.
Daniel Fish, who has gained 30 pounds since last year, was moved from safety to linebacker and will lead the defense, according to Reach. In the secondary the Eagles will have England, who Reach called "an essential player for the defense."
Raymere Thomas is another key defensive player who had a "great summer."
"(Linebacker) Justin Wyatt has been a great addition for us," said Reach. "He has had several offers. We expect great things from him."
The Eagles will return a dangerous special teams weapon in kicker/punter Mitchell Blanchard. The three-year starter is coming off of a down year last year, but Reach believes he can bound back.
"Last year was not as good for him as he expected, but he has a great leg," said Reach. "His experience is a big advantage for this team.
If Collins Hill can get Sheehan back healthy and get him familiar with his teammates, watch out for the Eagles to put it all together in with a deep run into the postseason.
Secondary Content
Bottom Content