Section Branding
Header Content
Georgia Quarterbacks Picking Up Offers
Primary Content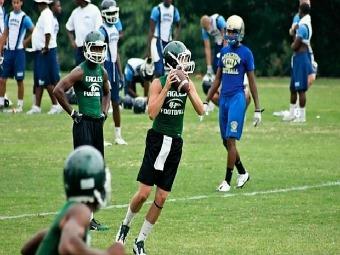 Collins Hill head coach Kevin Reach helped Taylor Heinicke earn a scholarship to Old Dominion University two years ago. Now Reach has helped Heinicke's successor Brett Sheehan reach the next level as it was reported that Sheehan has committed to Florida International University. In seven games as a junior last year, Sheehan threw for 1,157 yards, 11 touchdowns and just three interceptions as the Eagles advanced to the playoffs out of Region 7-AAAAA. Collins Hill's Nick England signed with FIU last February.
"He is a great kid with a very bright future," said Reach.
Two quarterbacks from the northwest corner of the state were in the news as Darlington's Brad Butler received his first offer and Calhoun's Taylor Lamb committed over the weekend. Butler was extended an offer by Presbyterian according to 247sports.com, though Wake Forest, Wofford and NC State are also showing strong interest. Meanwhile, Lamb, who led Calhoun to the Class AA title last year, committed to South Alabama. Lamb had also received offers from UT-Chattanooga, Georgia State, Memphis and Liberty according to PrepCentralOnline.com.
While the Class of 2013 Georgia wide receivers may be the deepest crop at the position in years, one receiver in the Class of 2014 is already drawing attention near the Florida border. Lee County Trojan Josh Cabrera received his first major FBS offer last week when Duke offered the 6-foot-3, 175-pound junior. Cabrera runs a 4.59 40 and was honorable mention all-state as a sophomore in 2011. Last year, Cabrera hauled in 70 catches for 960 yards and 13 touchdowns. He also pulled in 500 receiving yards as a freshman.
"Josh has been working hard this summer attending football workouts and passing regularly, as well as playing on his high school and AAU summer basketball teams," said Lee County head coach Dean Fabrizio.
Lee County faces a favorable schedule and boasts a quarterback that should be able to find Cabrera plenty in a spread offense, so look for Cabrera's numbers, and offers, to continue to climb in 2012.
Secondary Content
Bottom Content