Section Branding
Header Content
Gatorade Honors Appling County's Buxton
Primary Content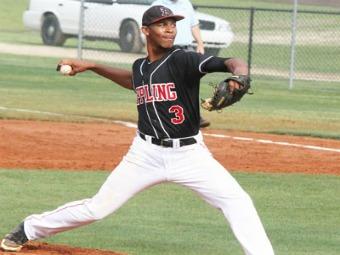 For 27 years, Gatorade has recognized the nation's top high school athletes, and on Wednesday the company saluted Appling County's Byron Buxton as the 2011-12 Gatorade Georgia Baseball Player of the Year. Buxton, who could go as high as No. 1 overall in this June's MLB draft, will likely get the ball today when Appling County hosts Pierce County in Game 3 of the Class AA championship series. Buxton started Game 1, pitching a complete game while giving up just two earned runs in a loss. He contributed in the Game 2 victory with three RBIs and two runs scored.
"(Buxton) leads by example," said Appling County coach Jeremy Smith. "He is a very humble, tremendous kid."
This season Buxton has recorded a .523 batting average with three home runs, 31 RBIs and 36 stolen bases in 37 chances. He has led his team to a 33-2 record both in the outfield, where he projects at the Major League level, and on the mound, where he is 9-0 with five saves, a 1.78 ERA and 125 strikeouts in 67 innings.
"He is so team oriented," said Smith. "It's always about the team."
In the quarterfinal round, Buxton petitioned to close out Game 2 after picking up the win in Game 1 to help out the team.
"We have nine seniors who are very close," said Smith. "Buxton wanted to win for them, so he came up to and said 'Coach, let me finish it.'"
Parkview's Matt Olson was the 2010-11 winner, but it is a different Parkview player that draws the most Buxton comparisons.
"Byron Buxton is the biggest game-changing player that I have seen in Georgia since (Kansas City Royals outfielder) Jeff Francoeur," said Tattnall County head coach Josh Cole. "Not only is he a five-tool player, but he is also so exceptional in all of those areas. There is no real comparison in high school baseball."
Buxton is also a candidate for the prestigious Gatorade National Baseball Player of the Year award, which will be announced in June. Baseball American has Buxton ranked as the No. 2 prospect in the nation. Keith Law of ESPN has Buxton listed as the top high school prospect available for the upcoming MLB draft.
Secondary Content
Bottom Content