Section Branding
Header Content
2012 Finals Have Star Power Theme
Primary Content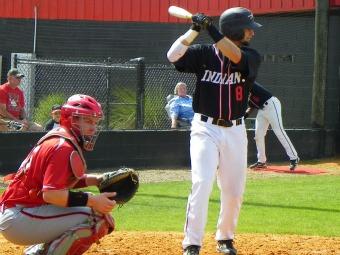 If your team is still playing, smile. Out of the more than 400 GHSA baseball programs in the state, only 10 remain.
All 10 teams have had ups and downs and all 10 have had to fight to get to this point. This weekend is about realizing how far these teams have come, and also seeing which five can survive to call themselves "state champs."
CLASS AAAAA
Brookwood at Parkview
It's a neighborhood rivalry for the state championship as two Gwinnett County power programs meet for all the marbles. The two teams met twice this season during Region 8 play, and the Broncos took both meetings behind Lucas Sims' pitching.
Sims, a Clemson signee, is one of two players in this series expected to be taken high in this year's Major League Baseball Amateur Draft. The other, Parkview senior Matt Olson, is a Vanderbilt signee, but like Sims, he will need to decide between the MLB Draft and college when this weekend's series comes to a close.
The Panthers are no stranger to the finals, having won it all last season and four times total. Brookwood, meanwhile, last won the state title in 2008, and also in 1986.
CLASS AAAA
Greenbrier at Loganville
The Red Devils advanced past Johns Creek to make the finals in one of the most dramatic series in recent state history. Loganville fell behind early in each game, giving up runs to the Gladiators in the first inning of all three games.
The final two games came down to the last at-bat, as the Red Devils overcame 1-0 deficits in the final inning of both games. In dramatic fashion, Loganville walked off with the series in the bottom of the seventh inning of Game 3 when Clint Frazier singled in two runs.
Greenbrier also had to go to three games to finish off Whitewater. The Wolfpack, five-time state champs, had no such drama in their Game 3 by tagging Whitewater for 15 hits and 15 runs. Georgia Tech signee Jordan Hunt leads a talented Greenbrier pitching staff, while senior centerfielder Spencer Duffy leads a potent lineup.
CLASS AAA
Columbus at Ringgold
In direct contrast to each other, the Ringgold Tigers are stalking their first-ever state baseball championship while the Columbus Blue Devils are trying to bring home their 12th. But while the Tigers are short on tradition in this matchup, they may have an edge in motivation.
The town of Ringgold was devastated by tornadoes almost a year ago exactly, and the Tigers want nothing more than to bring a state championship home for their community. Ringgold will be led by Austin Parrish, who threw a complete game in the semifinals, and Andy Mocahbee, who homered twice in the Game 3 clincher.
Columbus is headlined by some familiar names to state of Georgia baseball fans. The Blue Devils are led by Kyle Carter, J.T. Phillips and John Lester, who starred for the city's 2006 Little League World Series champions. In their last series together as teammates, the trio would like nothing better than to bring home the school's third straight state title.
CLASS AA
Pierce County at Appling County
If you are looking for star power, this matchup provides it with one name: Byron Buxton. The University of Georgia signee may be the first player in the state selected in the upcoming MLB Draft.
Buxton has led his band of Pirates through the playoffs at the plate and on the mound. In the semifinals series against Brantley County, Buxton pitched in both games (Appling County swept) and also had a bases-clearing triple.
Pierce County, meanwhile, advanced past Lovett in the semifinals in three games. Starting pitcher Will Lowman tossed a no-hitter in Game 1, while Drew Taylor and Nate Gay homered in Game 3 to key an avalanche of offense by the Bears.
The winner of this series will claim its first state championship in program history.
CLASS A
Providence Christian at Charlton County
The state's quaintest classification also features two programs looking for their first state championship in baseball. Each team won their respective semifinals series in three games.
Providence Christian relies on power-hitter Christin Stewart, who drilled a state-record 69th career homer in the semifinals. The Stars edged Savannah Christian in the semifinals with a Game 3 7-6 win.
Charlton County rolled past George Walton Academy in Game 3 of the semifinals behind 4 2/3 innings of scoreless relief from pitcher Chris Smith. Jacob Baxter had two RBIs for the Indians while Richard Dasher was 2-for-3 with an RBI.
Secondary Content
Bottom Content