Section Branding
Header Content
Four Teams Win First GHSA Soccer Title
Primary Content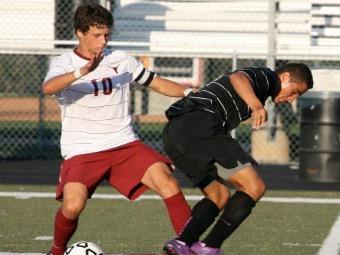 Teams and fans from ten different schools celebrated GHSA soccer championships over the weekend, and for some it was old hat while for others it was a completely new experience. First Presbyterian Day captured its second straight GHSA girls Class A title in a very physical title game against Fellowship Christian. Center-defender Kim-Caitlin Alderman moved up and sent a laser from 35 yards out past Abigail Freemeyer for the game's only goal.
"I was not expecting that," said Alderman after the game of scoring the game's only goal. "I got into the scoring book, which is exciting."
Alderman, a senior playing in her final game at First Presbyterian Day, will attend Valdosta State next year on a soccer scholarship.
Viking goalkeeper Claire Crawford made 10 saves to preserve the shutout victory and help FPD to its second straight GHSA crown. "I give my team in front of me all of the credit," said Crawford.
Head coach Josh Trieste's program is now 40-0 against GHSA competition in just its second year in the GHSA.
The Greater Atlanta Christian girls meanwhile celebrated the program's first state title after beating Blessed Trinity 1-0. Freshman Danielle Marcano sent a header in the game's opening minutes past the Titans goalkeeper, and Elizabeth White would make the goal stand up with 10 saves.
Troy Bendickson said the win was special for GAC after the Spartans lost to Blessed Trinity 1-0 in last year's championship game. "It would have been fun to have hosted the championship game if (Blessed Trinity) had lost in the last round, but deep down we all wanted to play Blessed Trinity in the finals."
The Spartans lose five seniors but return White and junior standout Rachel Garcia, who finished the year with 47 goals. Kayla Puzas, who assisted Marcano on the goal, also returns.
The Milton girls joined Allatoona as first-time champions after victories over Northview and Columbus, respectively. Milton won 4-0 while Allatoona received goals from Kristy Wise and Willough Davis to win 2-1. McIntosh won the Class AAAA title over Whitewater after edging the Wildcats 6-5 in PKs. It was McIntosh's eighth title since 1992 and second in a row.
Cameron Moseley scored a pair of goals and junior Alex Robinson made seven saves as Woodward Academy topped Gainesville 2-0 in the boys Class AAA title game. In other boys action from the weekend, Collins Hill took its third Class AAAAA crown in four years and second under Drew Prentice with a 3-1 win over Centennial. Prentice is leaving the Eagles to take over a director of coaches at the Dacula Soccer club.
Westminster edged Blessed Trinity thanks to the play in goal of Andrew Freschi. The keeper stopped two PK attempts as the Wildcats won 1-1 (4-2, PKs). The title was the second straight for Westminster and the 10th in team history.
Matt Moser notched a pair of goals for Aquinas as the Fighting Irish squeaked past Atlanta International 3-2. Marcus Wade scored the third goal for Aquinas. Lambert cruised to the Class AAAA title with a 5-0 victory over Greenbrier. Bakawsu Kinteh scored four goals for the Longhorns, who claimed the program's first state title.
Secondary Content
Bottom Content