Section Branding
Header Content
Defending Lacrosse Champs Face New Obstacles
Primary Content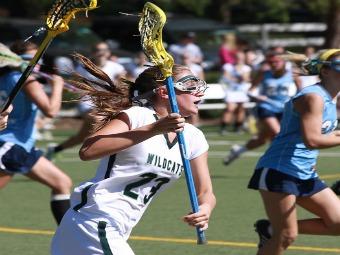 It all comes down to this. The state finals will be held Saturday night for two classifications in both boys and girls lacrosse.
For the Milton and Westminster girls teams, that means business as usual.
Coach Jay Watts' Lady Wildcats have won two straight Class A-AAAA state titles and will be attempting a "three-peat" Saturday. But standing in their way is a relatively new kid on the block, No. 1 McIntosh (rankings courtesy LaxPower.com).
"They have a great group of girls, great athletes" said Watts of the Lady Chiefs. "They present a big challenge and have no true weaknesses. We'll have to play our best game to do what we want Saturday."
While the No. 2 Wildcats haven't faced their finals opponent yet this season, Class AAAAA No. 1 Milton is very familiar with theirs. North Fulton rival Roswell stands in the way of the Lady Eagles winning their seventh state title in eight years. The two traditional rivals played earlier this year with Milton taking a decisive 19-3 win on April 20. But, despite the lopsided score, Milton coach Tim Godby is expecting a different group of Lady Hornets Saturday.
"They didn't have their leading scorer (MacKenzie Schoen) in that game," said Godby. "They've been playing well lately and are a totally different team."
The sports rivalry between the two schools - especially in football - is well documented, but Godby doesn't think that's really translated into girls lacrosse yet.
"It's probably not on the same level as the football rivalry because the sport (lacrosse) isn't as old," said Godby. "But it's gotten competitive in the past few years and it is more of a rivalry now."
In girls lacrosse, both Westminster and Milton have one thing in common: winning often. That consistent success may be an obstacle to some teams, but not to Godby and Watts.
For example, the Milton coach uses his program's tradition to motivate each of his teams.
"There's been a tradition that's been established here," said Godby. "Our girls feel the responsibility to continue to do what was done before them. It would mean a lot to them to uphold the tradition."
Watts uses a slightly different strategy to motivate his team.
"We don't really think about the other two (championships)," said Watts. "We keep our players motivated by constantly challenging them."
"And we have girls who are self-motivated. That's the Westminster way."
For two programs that have meant a lot to the growth and development of lacrosse in Georgia, Saturday night is the culmination of a lot of work and determination. While much of the state has not caught on to lacrosse fever yet, these two programs have helped the level of lacrosse in the state grow exponentially since the GHSA began awarding lacrosse state championships in 2005.
"There are more kids playing now (than in 2005) and the skill level has improved tremendously," said Watts.
That improvement will on display in four locations Saturday night when the lacrosse state championships are decided.
Secondary Content
Bottom Content