Section Branding
Header Content
Allatoona, Milton To Play For First Title
Primary Content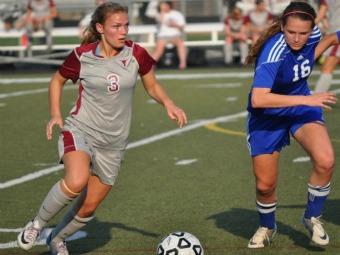 Taylor Erickson kept a clean sheet through regulation and two overtime periods, then made two saves in penalty kicks to lead visiting Northview to a 4-2 win in a shootout. The game was tied at 0 following overtime. In a well-played game that had no cards handed out, Harrison keeper Allison Leone made two saves through regulation, while Erickson had seven. Despite putting pressure on Erickson all game, the Hoyas could not find the back of the net.
The Milton girls soccer team advanced to its first-ever state championship game with a 3-0 victory over visiting Collins Hill in the Class AAAAA semifinals. Callie O'Connor opened the scoring 22 minutes into the game off an assist by Anna Hilpertshauser to give the Eagles a 1-0 lead at halftime. In the second half, an own goal by Collins Hill and a Katlyn Stevens goal off an assist by Sanna Levine sealed the win. Goalkeeper Tori Stajduhar had six saves as Milton improved to 22-1.
Teegan Van Gunst scored two goals, including one to open up the second half to help host Whitewater pull away in a 6-1 win over Union Grove. Savannah Jordan notched her second hat trick in as many games and also had three assists. Whitewater goalkeeper Crista Strickland made two saves and Union Grove's lone goal was on a first-half penalty kick.
Gainesville appeared in control early at home, but Allatoona reversed the pressure to take a 2-0 lead into halftime. Allatoona's Kristy Wise scored with 25 minutes to play before intermission, followed by Willough Davis' first goal. Davis would add another late in the second half. Sarah Craig earned the shutout for Allatoona, the team's 17th of the season. The win was the 14th straight for Allatoona.
Greater Atlanta Christian advanced to its second straight state final behind three goals and an assist from junior Rachel Garcia in an 8-0 win over Buford. Five single-goal scorers - Kayla Puzas, Hannah Huizenga, Halle Huff, Danielle Marcano and Brynn Finneran - also chipped in, as did Taylor Wagnon with three assists. Junior goalkeeper Elizabeth White had five saves and notched her 15th shutout of the season. The Spartans, in their fourth consecutive semifinals appearance, improved to 17-2-1 with the win.
Blessed Trinity got saves by goalkeeper Meredith Carson on the first and fifth Westminster penalty kick attempts, as Grace Demaska knocked home the winning penalty kick to send the Titans to their eighth finals appearance in 10 years in a 4-3 penalty shootout win. The game was knotted at 0 after overtime. Savannah Grace, Delaney Fechalos and Indy Wildschut scored the first three PK goals. Blessed Trinity is seeking its sixth state title.
Emily Sonnett scored midway through the first half for the visiting Fellowship Christian Paladins, then moved into goal for penalty kicks after two scoreless overtime periods in a 3-1 shootout win. The game was 1-1 after overtime. Fellowship Christian's goalkeeper was ejected for a red card midway through the second half, which resulted in a penalty kick for Pace Academy. Haley Zwecker converted the penalty to tie the game, but Sonnett saved two shots in PKs to win it for the Paladins.
The First Presbyterian Day Vikings received a goal from Atalia Ramirez with 11 minutes to play in regulation to force overtime, then won 3-1 in PKs. Earlier in the game, Grant Wilmer scored for Holy Innocents' before First Presbyterian Day's Melissa Hash tied the game before halftime. Taylor Anderson was credited for a goal to give the Golden Bears an early second half lead. Vikings goalkeeper Claire Crawford made two saves in penalty kicks.
Secondary Content
Bottom Content