Section Branding
Header Content
Lambert Boys Lacrosse Faces Stiff Test
Primary Content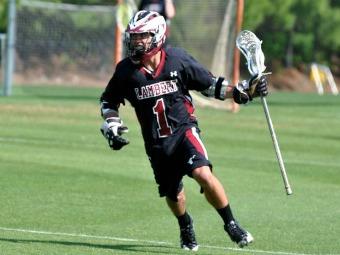 No. 1 Lambert heads into tomorrow night's game with Westminster having won a state-best 40 straight games. The 2011 Class A-AAAA state champion Longhorns have dominated all competition thus far this season, except semi-final opponent Westminster. In a 7-3 win on March 27, the Longhorns (20-0) struggled to put away the stubborn Wildcats, who were led by goalie Ned Zakas.
Now in the playoffs, the two teams will meet again with a lot more on the line.
"It's always tough to beat a team twice," said Lambert coach Josh Sagel. "Especially Westminster. They have an outstanding goalie and it's a hostile environment down there."
There will be plenty of talent assembled when the two programs take the field. Sagel's team will travel to Buckhead tomorrow night with three US Lacrosse all-americans and six all-state selections to go along with its titanic winning streak. Colin Massa (defense), Zack Price (midfield) and Cory Phillips (midfield) made all-american honors for Lambert, while Shelton Collier (attack) achieved the same honor for Westminster. The Wildcats had four players make the all-state team.
No. 3 Westminster (14-5) comes into the game with a less sparkling record than their adversaries, but has lost just two games to Class A-AAAA opponents: one to Lambert and the other to Lovett. The Wildcats captured the Area 2 title with a perfect 8-0 record.
To add to the prestige of their matchup, the two programs have won the last two state championships: Lambert won last year while Westminster won the championship in 2010. The semifinal also pits a member of the old guard against the newcomers in the state lacrosse scene. While Westminster was one of the first true powers in the state, Lambert has arrived lately as a dominant force. For both programs, this is certainly not just another match.
"It definitely adds to it," said Sagel about facing Westminster. "They are one of the founding programs in the state and they have great tradition. We just want to show how far we've come."
Secondary Content
Bottom Content