Section Branding
Header Content
Freshman Sensation Mackey Posts Top Score
Primary Content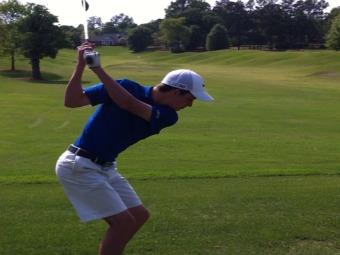 Prior to last Monday, North Oconee had never won a boys state title in any sport. Coach Terry Tuley turned to a 14-year-old to snap the skid, and the freshman delivered. David Mackey carded a 65 at Waynesboro County Club to earn low medalist honors and help the Titans secure the Class AA crown by 12 shots over Westminster.
For Mackey, the score tied his all-time best round, which he has done three other times. The pressure never got to Mackey, who has been playing golf since he was two.
"My parents got me a plastic set when I was two-years old, and I would play in the backyard," said Mackey. "I played in my first tournament when I was six."
Mackey said he plays every day and with his dad on the weekends.
"My mom was a golf pro," said Mackey of his introduction to the sport. "She taught me and so did my dad. I will play in his group sometimes on Saturdays."
Mackey described himself as a player not as a long hitter, but as one who tries to avoid mistakes. He did admit that while he is a precision golfer, the distance is starting to increase.
"I try to stay pretty consistent," said Mackey. "When I am consistent and finding fairways, (that) is when the birdies start rolling."
The birdies were rolling on Monday as Mackey, who played the course with the rest of his team leading up to the state championship event, fired a 65, good enough to beat out individual runner-up Jim Beatty of Oglethorpe (72). The 65 was the lowest score recorded regardless of classification. To achieve it, Mackey said he focused during his trademark long warm-up on the practice range, remembering lessons his father told him about each shot on the course.
Mackey's 65 was combined with a pair of 79s from Davis Verner and Mason Saxon as well as Tyler Williams' 80 to earn the school's first state title in a boys sports. Afterwards Mackey said Tuley was incredibly excited. "He asked us how we felt bringing home our school's first state title," said Mackey.
The team that did bring it home is more than just Mackey. The freshman said that the team is probably "the most different group of players," but they quickly form a squad that is "always emotional," and can get the job done.
"We will give each other high fives in the hall and we all cheer for one another," said Mackey.
What will the freshman do to follow up his incredible first year in GHSA play? He said he will keep playing every day to try and get better. As far as college, Mackey said that he is starting to hear from some, but that will all take care of itself in a few years. For now though, Mackey will simply be a force to be reckoned with as length starts to find its way to the best high school golfer in the state.
Secondary Content
Bottom Content