Section Branding
Header Content
Roswell Girls Tennis Announces Arrival
Primary Content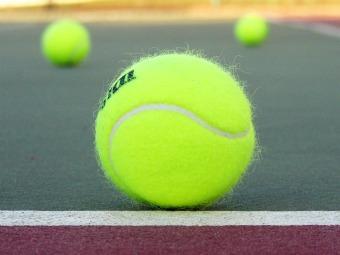 The Roswell Hornets girls tennis team solved the puzzle that is the Walton Raiders. Roswell eliminated Walton from the GHSA AAAAA state tennis tournament by a 3-2 score.
The loss snaps the Raiders' 158 match-winning streak,the longest streak in Georgia history and the Raiders' first defeat since the 2003 state quarterfinal vs. Chattahoochee.
Walton first-year coach Christy Page commended Roswell for its spirited play that led the Hornets to the win.
"We had to lose sometime," Paige said. "That was an unbelievable match. Everybody out here played unbelievable tennis and Roswell's an awesome team."
"It is really tough mentally, I think that was the biggest thing we had to overcome," Roswell coach Derek Shackelford said. "The big thing to me is our mental toughness, and we can handle the pressure."
The Roswell program has slowly progressed into a state title contender during recent years. Shackelford explained how the program has expanded into the elite shelf it sits in now.
"I think this year for sure, we have gained a lot of publicity, which will help us in the future," Shackelford said. "The past couple of years we have had really good tennis, but not to this level. It's a combination of having really good tournament players and players we have worked with the past couple of years. "
Roswell claimed a 2-0 early lead in overall points with singles victories from No.1 single player, Laura Patterson, 6-1, 6-4 over Walton's Suzanne Zenoni. At No. 2 singles, Roswell's Summer Ralston defeated Walton's Mellissa Mashburn 6-1, 7-5.
Walton rallied with a No. 1 doubles and a No. 3 singles victory. The rubber match would be the No. 2 doubles match which would decide who would advance to the AAAAA semifinals on tomorrow at Clayton County Park.
The final match was lived up to the billing for a state playoff match. The Walton pair, Erica Baur and Emily Hart, claimed the first set 6-4. The Roswell twosome of Anmoi Narang and Sammie Taylor, pushed on the gas pedal, and won the next sets in tiebreakers by a score of 10-8, and 7-1.
Shackelford was proud of his squad but stated there was still work left on the table to reach the state title.
"It's nice to get there, but now that we are there, why don't we go win it," Shackelford said. "Lowndes is a good team that is not somebody we can look past. If we make it to the finals, it will more than likely be against Peachtree Ridge. They have been ranked No. 1 in the polls all year. I think it would be quite poetic if one and two met in the finals and we can settle this thing."
Roswell will play Lowndes Saturday for a trip to the finals, where the winner will play Kennesaw Mountain or Peachtree Ridge in the state final later that day.
Secondary Content
Bottom Content