Section Branding
Header Content
Defending Soccer Champs Fall In Second Round
Primary Content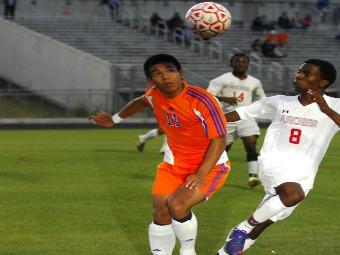 There will be at least two new champions this year in boys soccer as Greenbrier knocked off Class AAAA-champion Chattahoochee 2-0 and Aquinas defeated Walker 2-1. Region 2-AAAA player of the year Reed Norton set up Michael Harris late in the first half for a 1-0 Greenbrier lead, and the Cougars would be unable to find an equalizer on the stout Wolfpack defense. Zack Maxwell turned away several Chattahoochee attempts before Drew Fransoso iced the game with a late goal.
Greenbrier will next face Tucker after the Tigers prevailed 1-0 over Dutchtown. Solomon Roberts found the only netting of the contest with 14:58 to play. Josiah Saydee made a crucial stop, heading a ball away deep in Tiger territory on a play where Tucker keeper Steven Duffy was beaten by the Dutchtown attack.
Class A defending champion Walker was downed by Aquinas in overtime after Matt Moses headed in a Connor Tierney toss for the winning score. Justin Thompson scored the other Aquinas goal while Eric Pereira scored for Walker.
McIntosh scored early and often, dispatching Lakeside-DeKalb 4-0. The Chiefs are ranked No. 2 in the state according to Eurosportscoreboard.com.
Parkview's Diego Casillas turned away a pair of Tift County penalty kick attempts to help the Panthers escape Tifton with a 2-1 victory. Jonathan Jarrett notched Parkview's goal in regulation and later drove home a shot in the PK session.
Vishal Patel tallied a hat trick to ignite GAC's 7-0 thrashing of Putnam County. Hudson Kuipers also pushed in a goal as did Nash Wagnon, Ryan Yates and Daniel Johnson. The GAC girls also blanked Putnam County by an 8-0 score. Rachel Garcia scored three times to move her season total to 41, a new school record.
Region 6-AAAAA champion Centennial bounced Harrison from the playoffs with a 3-0 decision last night. Centennial is ranked No. 1 in the state according to Eurosportscoreboard.com and No. 2 nationally according to the Powerade FAB 50 poll on ESPN.
One incredible girls matchup tonight to watch out for is Class AAAAA No. 2 Harrison facing No. 3 Woodstock. The Wolverines are the No. 3 seed out of Region 5 while the Lady Hoyas won the Region 4-AAAAA championship. The Milton girls face Hillgrove tonight after the teams combined to collectively beat their first-round opponents 17-0. Class AAA No. 1 St. Pius X faces Spalding while a potential No. 2 Woodward Academy vs. No. 3 Allatoona Saturday contest sits on the opposite side of the bracket, should both of those squads win tonight.
Secondary Content
Bottom Content