Section Branding
Header Content
Lacrosse Playoffs Begin In Earnest Tonight
Primary Content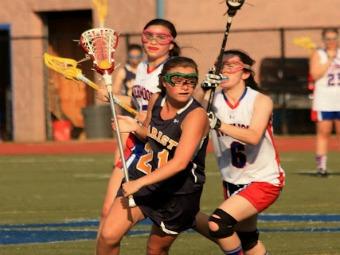 One game was played last night as the Westminster girls eliminated No. 14 Lambert 12-4 in Buckhead. The No. 2 Wildcats (17-2) were led by four players who each scored multiple goals (Caroline Heys, Anna Silverstein, Eve Knapp and Kate Harris), while Katie Rush had six saves. An interesting matchup may loom in the second round as No. 6 Holy Innocents' faces No. 12 Lakeside-Evans.
An intriguing first-round matchup that will take place tonight is No. 5 Woodward Academy against No. 19 St. Pius X. The two Atlanta private schools can trace their athletic rivalry back decades and, though each considers others to be more familiar rivals, Woodward and Pius do carry a significant amount of competitiveness between them.
Both teams have lost to No. 1 McIntosh, while Woodward defeated No. 4 Marist while the Golden Lions fell to them narrowly in a de facto area championship game.
Another intown Atlanta battle between private schools with a long history together matches Marist against Lovett. However, the highly-ranked Area 4 champions (13-3) should make quick work out of the No. 12 Lions (7-10-1).
Along with the Woodward-Pius affair. The South Forsyth-Kell matchup pits two top 10 teams in the first round. Both teams enter the playoffs on quite a roll as the No. 9 War Eagles have won 11 of their last 13 while No. 3 Kell enters having won nine of its 10 area games. The Longhorns' only area defeat came to Westminster.
Meanwhile, No. 1 McIntosh (11-2-1) will take on Decatur (9-9). The winner gets the Kell-South Forsyth victor, which should provide another highly-anticipated second-round match.
In boys Class AAAAA action, No. 1 Milton gets a rough first-round matchup as the Walton Raiders invade north Fulton County. The No. 11 Raiders (7-11) are the defending state champions, but are in a rebuilding year and have fought their way through a rough schedule.
The Area 3-champion Alpharetta Raiders host Woodstock tonight while No. 3 Lassiter hosts Northview. While Alpharetta (16-1-1) should make quick work of the Wolverines (6-11), the Trojans will be severely tested by No. 6 Northview, the No. 4 seed out of Area 3, possibly the toughest area in the state.
Another top 10 matchup is No. 4 Etowah taking on No. 7 Roswell. While the Eagles came in second behind Lassiter in Area 2, Roswell is the No. 3 seed out of Area 3. The winner of this intriguing matchup will get the winner of Harrison-North Gwinnett. Although the No. 12 Hoyas are the top-seed out of Area 1, they will be considerably lower-ranked than their opponent in Round 2, should they advance.
Note: All rankings are from LaxPower.com
Secondary Content
Bottom Content