Section Branding
Header Content
First Round Of Baseball Playoffs Underway
Primary Content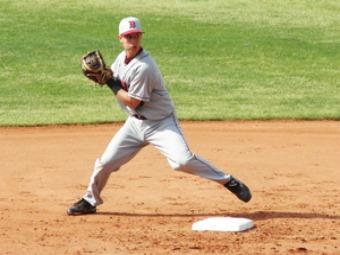 The state baseball playoffs will begin today as the top four teams from each region will compete in 32-team fields to determine champions for all five classifications.
In Class A, Hebron Christian will begin its title defense with a series against Region 7-A three-seed Glascock County. Meanwhile, Wesleyan, which won the 2009 and 2010 state titles, will face Region 6-A champion Mt. Paran in an interesting matchup involving metro Atlanta programs.
Defending Class AA champion Buford is the No. 2 seed out of Region 6 and will host Temple in a first-round series. The Wolves are trying to become the first repeat champion in the classification since Cartersville in 2001 and 2002.
Former Little League World Series winners Kyle Carter and JT Phillips will try to lead Columbus to its third straight Class AAA state title. The Blue Devils will entertain Region 5-AAA No. 4 seed Arabia Mountain this weekend.
Two-time defending Class AAAA champion Marist again won Region 6, and will host Villa Rica in the first round. The War Eagles have won four of the past 10 state titles in Class AAAA.
In Class AAAAA, defending state champion Parkview will host Gwinnett County neighbor Collins Hill in the first round.
The Lassiter Trojans (17-9, 10-2 5-AAAAA) clinched the ninth Region 5-AAAAA title in school history and will enter the state tournament as a No. 1 seed. While Lassiter usually enjoys success every season, this year was different for the Trojans. This season was the first since 2002 that the team had no Division 1 signees. The team graduated its three-man rotation and only returned three starters from last year. Even with so few players returning, the Trojans made the most out of their young talent and have been buoyed by their rotation of Caleb Kutsche, K.J. Sinclair and Tim Eber. Another reason for Lassiter's success is a .303 team batting average. The Trojans face North Forsyth in a Friday doubleheader in the first round of the playoffs.
PROM PROBLEMS ...
The norm for the first round of the state baseball playoffs is to hold a doubleheader Friday night and games the next day if the doubleheader is split. However, there are instances that cause this schedule to be changed. One such instance has arisen this season and caused Colquitt County and Westlake to play their doubleheader on Thursday night. The Lions are holding their prom Saturday night and asked Colquitt County if they could move their matchup forward a day. Westlake has won four of its past five, but face an equally hot Packers team that has won its past three games.
HOT HORSES ...
Gwinnett County has 13 teams in the state playoffs this year, and, while that includes last year's A, AA, and AAAAA state champions, no team enters the playoffs hotter than Brookwood. The Broncos have won their past seven games and are holding opponents to an average of one run per game over the course of their winning streak. Lucas Sims, the team's ace, has played a large role in the team's success and stands a fair chance of being drafted in the first round of next month's 2012 MLB First-Year Player Draft.
Secondary Content
Bottom Content