Section Branding
Header Content
Athens Academy Keeps Churning Out Titles
Primary Content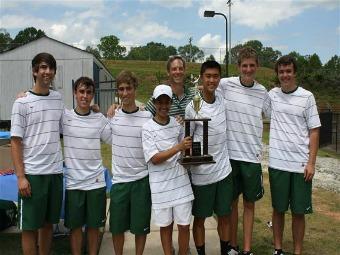 From 1991 through 2005, the Atlanta Braves won a division championship every year the season wasn't stopped due to labor discourse. As impressive as that streak is, the Athens Academy boys tennis team has nearly doubled it.
Several weeks ago the Spartans took down Riverside Military Academy to clinch the program's 26th consecutive region title and eighth straight under head coach Ley Brown. During the run, the Spartans program has captured 12 state titles under several coaches, most recently 2008 and 2009 under Brown. While the team has not put together 158 straight matches like the Walton girls squad, the streak is still a marvel of Georgia athletics.
"Our streak is something to be proud of because of the tradition it represents and the link it provides between the current teams and those of many years past," said Brown.
None of the current players were alive the last time Athens Academy failed to capture a region crown, but this streak is one that lives in the back of each player's mind.
"We don't pay too much attention to the streak, but it is definitely (there), especially when it hangs by a thread as it did last week against Riverside," said Brown.
Brown's squad was able to capture the crown and then cruise in the first round of the playoffs. Brown acknowledged that early-season scheduling has helped his team come playoff time buy toughening them up.
"We are fortunate to play a lot of top teams, many in other classifications (Lambert, GAC, North Oconee) during the season which really helps us as we go into region competition," said Brown.
He also quickly deflects any credit to his assistants and to the players themselves.
"Our run is definitely based on tennis talent," said Brown. "Tennis, much like golf, is won in the school off-season in a number of ways. Our top players have been trained by pros and their experiences in tournament tennis."
Brown said that during the season, a bulk of his efforts goes towards maintaining his player's level of play and converting singles players into effective doubles players.
Brown also serves as the head coach of the girls team which recently won its 30th region crown. This is Brown's eighth season and through his first seven, the girls program finished in the top three six times, winning two titles, most recently in 2010.
"Coaching guys and girls teams together has been energizing in one sense as both teams get along well, but obviously it's hard to do much more than spread yourself really thin when you have 10 courts going on at once," said Brown.
The coach credits Sarah Avery and four-year No. 1 player Adrienne Elsberry for their quality work this season. "We talk before and after practice, and I'll address both teams before most matches, but Sarah and Adrienne really do much of the day-to-day work there."
This year's boys squad came together right before the region, after a season of mixing and matching. "Ultimately any streak like this comes down to the players," said Brown. "We have had excellent tennis players here for a long time and the continuation of the streak will depend upon having more of the same in the future."
Secondary Content
Bottom Content