Section Branding
Header Content
Gordon Central Supports Wheelchair Athletics
Primary Content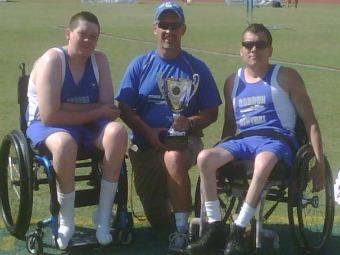 If the defending boys track & field state champions - wheelchair division are to defend their crown this year at the Georgia Olympics at Jefferson's Memorial Stadium, they will do so without a pair of 2011 standouts. Gordon Central earned 40 points one year ago to claim the title over Loganville, Buford, Lee County and Forsyth Central as Logan Caudle and Austin Childers each submitted top-notch performances. Caudle finished in second place in the Class 1 shot put and earned points in the 200 meter and 800 meter races. Austin Childers won the Class 2 shot put event and placed second in the 200 meter race and third in the 800 meter race. The Warriors will be missing both for this year's championships, though, as Childers graduated and Caudle was told in December that he would need two metal plates put along his spine to keep it from curving. He should recover fully and be ready to start training at the beginning of May for his junior and senior seasons.
John Rainwater is the head track and field coach at Gordon Central High School, and he works with the these athletes just as much as with the rest of the track team.
"Each day we must evaluate how the body is responding at practice time," said Rainwater. The coaching staff and athletes usually begin with the shot put and work up to the racing events. Rainwater said that the shot put work begins with technical work and ends with full throws. Then it is on to racing.
"Our race work is usually flat work and some hill work for strength. Then we finish with starts for speed work."
Rainwater keeps his adapted athletes, athletes with a Class 1 or Class 2 disability, and his able-bodied athletes training at the same time, but the adapted athletes must use areas of the track with less traffic. "Our athletes at Gordon Central have grown up around these wheelchair student-athletes, and they work well together."
In fact, Childers took weight training classes for two years and would work with other students in the class on the same short-curl bar exercises. The other throwers and throw coaches assist in practice by retrieving the shot put and holding the chairs while they throw.
Gordon Central has had great success with its wheelchair shot put contestants, including last year's champion Childers. Rainwater said the reason is the intense workout and the support from teammates. "The shoulders for most wheelchair throwers become tired sooner because they have been working it hard all day just getting from class to class," said Rainwater. "Our other team members understand how difficult it is to come and compete with these limitations. Our team is great about encouraging our wheelchair team members."
Rainwater said that coaching these wheelchair athletes has some difficulties that must be overcome in order to achieve success. "The biggest difference for me was learning the proper racing technique and learning about the everyday differences and limitations of some wheelchair athletes."
As a coach, Rainwater must also know the finest details of how the racing chair works and what adjustments can be made to the chair that are still within the rules. "A mistake by me in the adjustment of the racing chair could cost my athlete a win and our team a state championship."
The wheelchair athletes compete at all of the Gordon Central home meets and some away meets, if the track has the appropriate surface. Rainwater has taken measures to ensure that his wheelchair athletes can attend as many meets as possible. When a track team has wheelchair athletes, a separate bus with a wheelchair lift must be provided for the team, but Rainwater has a CDL and can drive the additional bus, which keeps costs down. "We have taken all our state qualifying athletes on the wheelchair bus for the last four years to the boys state championship."
Rainwater believes that the GHSA has done a great job of providing an equal opportunity for all student-athletes to compete and be able to achieve an individual state title and contribute towards a team championship. "I have seen students that had an accident or a condition that drastically changed their chance to play sports, and the adapted sports program has given them a chance to still do what they love."
Secondary Content
Bottom Content