Section Branding
Header Content
Brookwood's Sims Thinking Title, Not Draft
Primary Content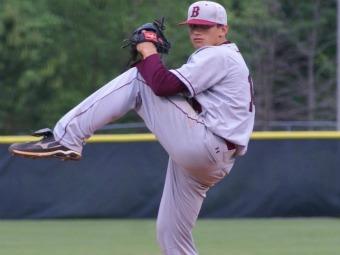 Lucas Sims may not be a name you know now, but in a few years, baseball fans around the world will likely be aware of him. The Brookwood ace pitcher is projected to be a draft pick in the top half of the first round of this year's MLB amateur draft.
But before he worries about that little event, Sims has a more pressing matter at hand: winning a state title.
"I haven't thought about the draft yet," said the Clemson signee. "I'll think about it more after the season. We're trying to win the state tournament right now."
Thus far in 2012, Sims has helped lead his team to a likely No. 2 seed in the region tournament, depending on the result of the Broncos' game tonight against Archer.
In two big games against Parkview this season, Sims pitched complete games and got the win in both. The wins were crucial to both the Broncos' standing in the region and their confidence. It also helped that the wins came against Brookwood's archrival, though the teams share a mutual respect.
"Parkview is a great rivalry, but everyone gets along after the games," said coach Rick Howard.
Sims agreed.
"There's no (animosity)," said the senior righthander about the Parkview rivalry. "It's not a hate thing with them. We hate to lose to them, but we're friends with their players, and we respect them."
Sims, who will be an honors graduate this spring, will need to decide his next step shortly after the season ends. Although he is a Clemson signee, he could elect to sign with an MLB team and forgo college. And Sims will seriously consider enrolling in Clemson next fall.
"I felt good about the coaches there," he explained. "I like the campus, they're a perennial power and I have to think about life after baseball."
Sims and his family will assuredly sit down and weigh the pros and cons of the decision and make a mature decision. One of the things Howard has noticed in his young hurler this season is his mental maturity on the mound.
"He's always had the physical ability to pitch," explained Howard. "But he's made huge strides in the metal aspect of it. His ability to make adjustments has improved greatly."
And, while many prep athletes get a case of the "big head" during their careers, Howard said Sims is just as mature off the mound as he is on it.
"He's a great kid," said Sims. "He's always been in the limelight, but I'm really proud of him and how he's handled the pressure."
For example, Sims keeps busy when not playing baseball by contributing to community activities, such as church groups and the Miracle League. He also helps out at youth leagues in the area. Shirking his responsibilities as a star athlete isn't something he was taught while growing up.
"I was raised to never take the easy way out, to push through and get the job done," said Sims.
The right-handed power pitcher is described as having a plus fastball and excellent curveball. The scouts also love the fact that he seems to have great mental makeup on the mound, as Howard alluded to.
And, as the Broncos attempt to capture their first state baseball title since 2008, Sims will likely shoulder the load for much of it.
Secondary Content
Bottom Content