Section Branding
Header Content
Westlake Lions Roaring For More
Primary Content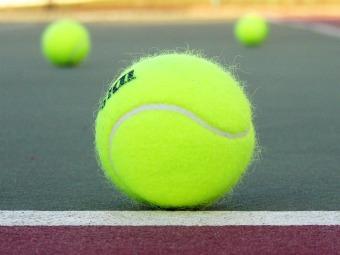 By Larry Fermin
The Westlake tennis program, led by coach Herman Fletcher, is a hidden gem in southwest Atlanta. Fletcher is in his fifth year as the head coach and has seen tremendous success in the past four years. The program was runner-up in the region his first year, won the region in his second, made it to the elite eight in his third and to the final last year. Things are looking bright for this team, which is mostly made up of juniors and sophomores.
This is a team that is looking for redemption after last year's hard-fought loss to Brookwood in the Class AAAAA tennis final. This team seems to be cool, confident and is playing with a chip on its shoulder.
A very talented group, all but one of last year's players returned this season. The Lions are composed of undefeated players at Nos. 1, 2 and 3 singles, while the players that are still learning, play as alternates and in the doubles spots. In the top singles spot is 6-foot-3 junior Zach Kennedy, who is ranked No. 1 in the southeast by USTA. He easily dominated his opponent from Valdosta in the first round of the Class AAAAA state tournament Wednesday night. Zach, whose dream school is UCLA, played an intense four-hour match in last year's semifinal, then 30 minutes later, had to play in the final where he was eventually pulled from the match by Fletcher because of health concerns. Kennedy said winning the state title this season is what he most looks forward to this season.
In the Nos. 2 and 3 spots are sophomores Justin Byrd and Sam Kennedy, respectively. Byrd, a humorous and confident player who also won his match, is ranked No. 20 in the southeast by USTA, made it a point to mention that he had yet to lose a singles match in his high school career. Kennedy, Zach's younger brother, is also 6-foot-3 and won his match last night.
According to Fletcher, most of his players have been playing since they were shorter than their current racquets, but he caters to all his players regardless of their talent. For most of his players, the development has already been in place since their parents have them on a full tennis regimen, only practicing as a team to make sure they are getting the instruction they need. When asked where he finds his players, Fletcher simply chuckled and said, "they come to me".
After their matches the three were asked what, if anything, was different from last year's team. Each echoed nearly the same response: this team is serious, determined, better and that they wanted to be remembered for winning the state title. Assistant coach James Womack felt that the vibe and the attitude of the team is to be No. 1 because, as he told the team, "no one remembers second place".
This team wants to prove it is the best; the singles players are undefeated this year, and although doubles may struggle in the tournament, none of them plan on losing because it is a matter of pride. According to Fletcher, the Westlake tennis team is "the" team to beat.
Secondary Content
Bottom Content