Section Branding
Header Content
Peachtree Ridge Looking To Break Through
Primary Content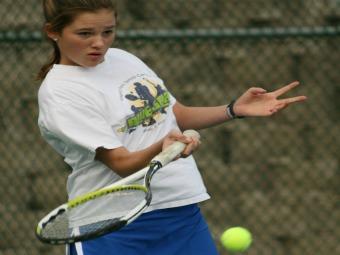 Last night, the Peachtree Ridge girls tennis squad dismissed Berkmar 3-0 in the first round of the state tournament. Next up for the Lions is the winner of Woodstock and Milton, although the Ridge will be heavily favored to advance no matter which team advances.
Coach Chrissie Bolt has seen her team advance deep into the playoffs after undefeated regular seasons and region titles the past two years, only to have its season ended by Walton in the state tournament. After moving from Chattahoochee following the 2003 season, Bolt has built a perennial power at the Gwinnett school.
A tennis player for most of her life, Bolt played at Presbyterian College where she was a member of the Blue Hose tennis team. "I've heard all the jokes," she said of the school's unique nickname.
After college Bolt found herself coaching tennis at Chattahoochee, where she led her team to the 2003 Class AAAAA state championship. Her Cougars were, in fact, the last AAAAA squad besides Walton to win it all. After winning the title at the north Fulton school, Bolt moved on to Peachtree Ridge.
"I wanted a new challenge," she explained. "We had a large group of seniors (at Chattahoochee) who graduated after (2003). It was just a good time to leave."
While the state championship is the team's ultimate goal, Bolt doesn't let it consume her players' thoughts.
"It's something we've been striving for," said Bolt. "I'd be lying if I said it wasn't our goal. But if we don't win it, you can't say we haven't had a great season."
This season, the Lions (15-2) have only lost to Lambert, albeit twice, after losing just twice total in the past two seasons (both to Walton). So is it difficult to get her team motivated to play this early in the playoffs?
"You win or go home," said Bolt. "You've got to look at each match separately."
That said, Bolt admitted her team got a nice draw in the state tournament. Her Lions won't get No. 2 Roswell or eight-time defending champion Walton until the finals.
"We put ourselves in a great situation by winning our region," said Bolt. "We're on the opposite side (of the bracket) from Roswell and Walton."
Like many top tennis programs in the state, Peachtree Ridge gets its players ready-made for instant success. The players grow up taking private lessons with coaches and playing year-round in USTA and ALTA before moving on to junior tournaments where top under-18 players from all over the country compete against each other. Bolt estimated that about half her players play junior tennis, while the other half came from USTA and/or ALTA.
Bolt and her program at the Ridge have accomplished a lot in her seven years, and the last remaining goal is the state title. This year is as good as any, as Walton finally appears to be down (at No. 3). But if the Lions don't end up winning three of the five matches in the final, Bolt and her team won't let it ruin their season.
Secondary Content
Bottom Content