Section Branding
Header Content
Milton Girls Dismisses Ranked Lacrosse Foes
Primary Content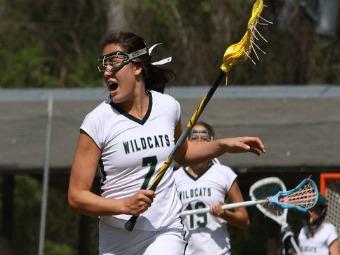 The Class AAAAA No. 1 Milton girls won two games this past week against ranked opponents (rankings according to LaxPower.com). On Wednesday, the Eagles beat No. 9 Alpharetta (8-4) 22-7 as 10 different Milton players scored goals. Annie Ruland notched six goals and had three assists while Molly Garrigan had four goals. On Friday, the Eagles conquered No. 6 Roswell (6-3) 19-3 as nine players got on the scoreboard. Ruland again led Milton, this time with five goals and four assists.
The No. 5 Marist girls (11-3) edged rival St. Pius X Wednesday 9-8 to win the Area 4-A-AAAA championship. The War Eagles led by four in the second half and held on as the host Golden Lions rallied to within one. Mary Heeking led Marist with three goals and goalie Meagan Dunagan had 11 saves. It is Marist's third straight area title.
The Class AAAA No. 1 Lambert boys dominated GAC 18-1 Saturday to improve their record to 15-0. Four Longhorns scored at least two goals, and Kyle O'Donnell and Corey Philips each had four assists. Philips and Peyton Smith each had three goals.
The West Forsyth girls (10-4) defeated Lovett last Monday 15-12 before beating Peachtree Ridge 13-12 and Greater Atlanta Christian 11-5 Saturday.
The Class A-AAAA No. 1 Westminster girls (13-2) held on to beat No. 3 Kell (11-3) 17-13 Tuesday after leading by as many as 11 goals in the second half. The visiting Wildcats were led by seniors Even Knapp and Kate Harris, who each scored four goals.
The Class AAAAA No. 2 Lassiter girls (13-3) took down Westminster 16-9 Saturday.
The No. 3 Chattahoochee boys (13-2) won their 10th consecutive game Thursday 17-8 over Greater Atlanta Christian. Tommy Stanton and Grayson West each had four goals to lead the Cougars.
Secondary Content
Bottom Content