Section Branding
Header Content
Youth Fuels Athens Christian's Track Success
Primary Content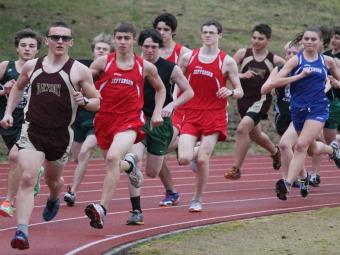 Coach Tim Cummings has a good thing going at Athens Christian. First, he is able to coach where he went to school and ran track. Next, he has been head track coach here for 23 years. And last, but not least, he has defending Class A state champions in both boys and girls track and field.
"I tell people I've kids who are so good they can overcome the coaching," said Cummings with a laugh.
The Eagles boys team has won eight consecutive region championships and two state titles (2007, 2011) under Cummings. Meanwhile, the girls have won six straight region championships and back-to-back state championships, 2010, 2011.
It is safe to say that after a couple decades of coaching track and field, Cummings has found a successful formula for putting together winning teams. But this year's teams are as different as north and south. While the girls are led by a veteran core of five seniors, the boys have several freshmen and sophomores playing major roles on the squad.
"We're real young," said Cummings about the boys team. "It's an unusual thing to be depending on freshmen and sophomores."
Despite the contrast in the two teams, both are ranked No. 1 in Class A by ga.milesplit.com. However, Cummings is not letting his kids get overconfident.
"Everything has to work out perfectly to win a state championship," said Cummings. "You have to be healthy and perform at the right times."
While the girls team is a veteran team this year, it wasn't always like that. Both track teams have depended on freshmen over the years, which involves more than just the luck of the draw. Cummings credits his middle school program and the cross country team for preparing ninth-graders. And, as Athens Christian is a K-12 school, the Eagles have their own built-in feeder program.
"It is a great environment (for track)", said Cummings. "You can keep an eye on (the athletes) all the way through school. It's almost an unfair advantage.
Another way Cummings prepares his teams for success is to schedule very competitive meets for his teams. This way, the teams aren't overwhelmed when they go to sectionals or state.
The Eagles will host the sectionals this year, although it will be at an unfamiliar track. For the first time in a while, the University of Georgia's Spec Towns track will host a high school meet. Cummings and his team are excited to host but a bit apprehensive about the track.
"We're a little on edge," said Cummings. We'll be facing some tough regions from South Georgia with some fast kids. The unknown (about the track) has us on edge."
Whether Cummings is just being humble or if the Eagles really are concerned with the track is unknown, but two things will remain constant at Athens Christian: Tim Cummings and a competitive track and field program.
Secondary Content
Bottom Content