Section Branding
Header Content
Tift County Gymnastics Wins Qualifying Round
Primary Content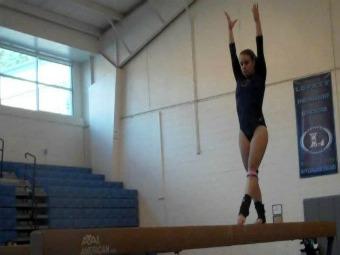 Tift County won the state qualifying meet at Lovett over the weekend with a score of 112.825. Newnan (109.15), Alpharetta (108.825), Lambert (108.8), Lowndes (105.5) and Lassiter (105.05) rounded out qualifying teams for Friday's state finals, which will be held at Westminster. Beth Roberts of Tift County won the all-around title with a 39.075.
The six top qualifiers out of the 34 team participants based on the sum of each team's top three scores qualified for the state championship meet.
Lowndes' Kenyadah Prime came in second with a 37.75 and Alpharetta's Kelsey Kopec scored a 37.7, good enough for third place in the individual standings and the highest finisher from metro Atlanta. Libby Barbour (37.25) of Tift, Trystien Charles (37.05) of Providence Christian, Sydney Goad (36.75) of Newnan, Katie Stuart (36.725) of Lambert, Ashley McLeod (36.5) of Tift, Katie Shellnutt (36.225) of Newnan, Elizabeth Hovey (36.125) of Newnan, Candace Walton (36) of Lassiter and Aubrea Callanta (35.7) of Lowndes finished in the top 12 individually as well, and will compete in the individual state championship meet this weekend.
Lakeside-DeKalb won its 17th DeKalb County championship last Monday as sophomore Meg Stephens took the all-around title and four gold medals at Dunwoody. Stephens scored a 34.175 to edge Oksana Carey of Dunwoody, who totaled 33.3 points. Lakeside's Linsey Bergstrom came in third with 31.85. Last year's county champion, Camille Cassar of Arabia Mountain, came in fourth with a 31.450. Stephens won medals in balance beam, floor exercise and uneven parallel bars. Her 9.025 score on the floor exercise was the best of the meet. The win by the Vikings ended a three-year run by the Wildcats. Lakeside tallied a 98.225 as a team while Dunwoody finished with a 93.950. Lakeside has the most county championships in the history of the event, while Tucker has nine and Dunwoody and Redan each have seven.
Southwest DeKalb (74.175) made a major improvement from last year, as it finished fourth in the county this season after taking seventh last year. Tucker (84.75) captured third and Arabia Mountain (72.6) finished fifth.
Prior to the state qualifying meet, Alpharetta won a meet Monday over host Westminster, Johns Creek and Northview. The Wildcats scored 107.4 to defeat the hosts 95.3.
Secondary Content
Bottom Content