Section Branding
Header Content
Wade Carrying On Walton Soccer Tradition
Primary Content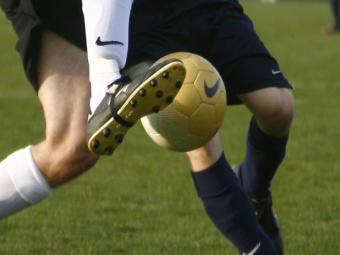 Some say the hardest thing to do in coaching to a follow a legend. But Walton's Bruce Wade is challenging that notion this season.
After starting the season 1-4, the defending Class AAAAA state champions have reeled off six wins in their last seven games. And Walton has won the ones that matter, as the Raiders are 6-0 in Region 5-AAAAA play, which earned them the region title.
"Our senior class stepped it up," said first-year Walton coach Bruce Wade of the turnaround. "We had some discipline issues to take care of, but it came together at the right time."
While a 9-6-1 record is not all that scintillating, an argument could be made that Walton played the toughest schedule in the state. All six losses came to teams ranked in the top 10 and the tie came to Westminster, which is ranked No. 2 in Class AA.
"I designed the schedule to be a challenge," said Wade. "But I may have made it too competitive."
However, the losses were all close games, with four by one goal.
Wade's job at Walton may have been made more difficult this season due to the coach he followed - Bucky Boozer. The Raiders' former coach was with the program for 26 years, winning six state titles. No matter how well Wade does, there will be critics saying Boozer would have done it differently.
"With all the closes losses, you start to question yourself in your own head," said Wade, who has coached soccer for 20 years. "You wonder if you would have dropped those games if (Boozer) was there."
Despite the pressure from the outside, Wade doesn't let it bother him for one reason.
"I don't know if there's more pressure than what I put on myself," said Wade. "(Boozer) is still a dear friend of mine and I want to keep the program where it's been."
Wade's Raiders clinched the region title with a stirring 1-0 win over east Cobb-rival Lassiter, which was ranked No. 1 in the state by Eurosportscoreboard.com at the time. But that may not have been the biggest win of the season in Wade's mind.
"The Wheeler game helped turn it around," said Wade of the win over Walton's traditional archrival. "We knew if we could pull off that game, we could get the season right."
The Raiders entered that game 4-5-1, unranked and looking up at a talented and highly-ranked Wildcats squad. Walton won the road game 1-0 despite its bus stalling on the way.
After the character-building win, Walton won its next four of five games and the region title.
Now, the Raiders will close out their season with a road game at Whitewater before beginning yet another voyage into the state playoffs.
Secondary Content
Bottom Content