Section Branding
Header Content
Columbus Dynasty Targets More Trophies
Primary Content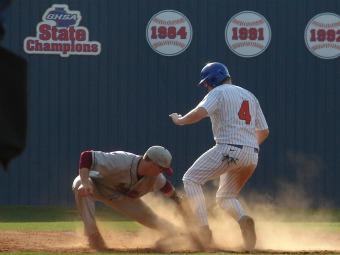 The Columbus Blue Devils baseball program is one of the most accomplished in the state. Since winning their first state title in 1984, the Blue Devils have rolled up 10 more. Coach Bobby Howard has been at the top step of the Blue Devils dugout for 28 years and has coached baseball since 1975.
Himself a graduate of Columbus' Jordan High School, Howard credits the city's baseball scene for the success of his and other local programs. Besides Howard's program, Jordan, Shaw and Brookstone have also brought state titles back to the west Georgia city.
"It's a good area with a lot of good coaches," said Howard of the Fountain City. "The minor league teams helped build a foundation and a lot of (players and coaches) stayed and married local girls. That built a serious culture of baseball here."
Until three years ago, Columbus had hosted a minor league baseball club consistently for more than a century. Those teams helped foster an appreciation and growth of baseball in the city and, as Howard mentioned, several baseball people stayed and grew roots in the area.
Major League players like Frank Thomas, Colby Rasmus and Tim Hudson are products of the area, and all three come back regularly to contribute to the local baseball scene. The commitment to baseball in Columbus was never more evident than in 2006 when a local little league team won the Little League World Series. A few players from that team are now with Howard's Blue Devils.
One of the former LLWS champions is Kyle Carter, ace pitcher and power hitter for Columbus. On Wednesday, Carter pitched a complete game one-hit shutout to help his team win its 10th consecutive region title. The University of Georgia signee is now 7-1 on the season.
Despite Carter's pitching prowess, the lefty is more known for his hitting. In fact, he may skip college and go on to professional baseball.
"There aren't too many hitters like Kyle," said Howard. "He's been good for a long time and has been able to live up to expectations. He's pretty special."
Carter was so special his freshman year that he started and ended up hitting 12 homers and batting over .300 that season. Not bad for a frosh.
With future major leagues on the team and 11 state titles in tow, where does a region title land on the Blue Devils' list of goals?
"We feel fortunate to win it again," said Howard. "There were a lot of people involved in that. But it doesn't mean a whole lot. Our success is determined by how long we play (in the state tournament)."
Next up for the Blue Devils is the region tournament this weekend, then two interesting games against last year's state champions from Class AAAA and AAAAA in Marist and Parkview.
After, it will be another journey through the Class AAA state playoffs for a chance to win a third consecutive state championship.
Secondary Content
Bottom Content