Section Branding
Header Content
Walton Girls Win Ninth Straight Region Title
Primary Content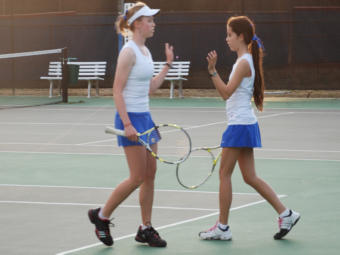 Nine straight region titles, 156 straight matches and eight straight state titles (for now). That is what the Walton Lady Raider tennis team has racked up since losing in the 2003 state quarterfinals to Chattahoochee. Many feared "The Streak" would end this year after Walton lost its head coach to retirement and nine seniors to graduation, but Walton has kept churning.
Christy Page has pulled the strings to perfection in her first year as head coach. Tuesday during the region championship against Woodstock, Page watched as the No. 2 doubles team of Erica Bauer and Emily Harte took a two-set victory 6-0, 6-3. The No. 1 doubles team of Jessica Cramer and Katie Riley would clinch the match with a 6-1, 6-4 victory. "Our doubles both played determined and solid to pull out the two-set wins," said Page of her rain-soaked players.
After a rain delay, the players were able to play through some inconvenient weather before the skies opened up again. Before the rain returned though, Mellissa Mashburn picked up a huge point for the team with a victory at No. 2 singles (6-2, 6-1). "Mashburn came out strong and played unbelievable."
Walton was also leading the other two matches, but Page pulled her team off after securing the 3-0 victory. "It was a great day," said Page. "The girls all played great and were excited to win the region championship."
The Lady Raiders will now focus on bringing home a ninth straight state title, but Page won't soon forget winning the region in her first year as head coach. "With such a young team, it felt great to accomplish that goal.
Secondary Content
Bottom Content