Section Branding
Header Content
Brookstone Preps For State Golf Tournament
Primary Content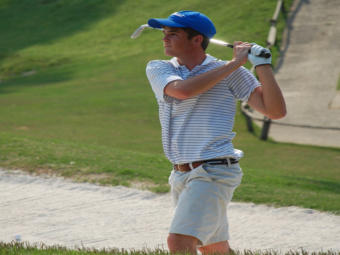 Over the weekend, the Brookstone golf team reached yet another milestone for the program, winning the Hardaway Invitational for the first time in 27 years and becoming the first team from the Columbus area to take the tournament in 20 years. Parker Derby led the charge for the Cougars, posting a tournament-low two-day total of 141, earning him the low medalist honor for the competition. James Clark also played a key role in the win, with a two-day total of 150, good enough for a spot on the all-tournament team.
Coach Todd Stanfill was impressed with how his team shook off a slow start to win the tournament. "I was very impressed with how we hung in there on Friday," Stanfill said. "We didn't hit too well but we showed how mentally tough and determined we were."
With the Hardaway competition being the final tune-up before the region tournament, the defending two-time Class A champions are looking ahead to the postseason and expect to be prepared to defend their title. In preparation for the regional competition, the team is conducting business as usual, with a normal week of practice, followed by a practice round at Southern Hills, which is once again hosting the tournament. Since the team is familiar with the course, there isn't as much of a need for additional practice at the venue.
The state tournament takes place on May 7 at Forest Hills, which is essentially unfamiliar territory for Stanfill's bunch. The tournament returns to the course, which also serves as the home course of Augusta State University, for the first time in four years. Despite his team's unfamiliarity with the course, Stanfill feels that it won't matter when it comes time to tee off.
"We have a group of focused players who play a lot and can learn courses quickly," Stanfill said. "These guys are dedicated and smart kids, who are more mature than their ages."
Sporting only one senior, this team is indeed built for the future, with Derby being a junior along with the Clark brothers, James and Mercer, finishing up their sophomore years.
In order for Brookstone to capture another regional title and its third straight state crown, Stanfill believes that the entire team must be on their games in order to reach its goals.
"Everyone needs to be below 80 for us to be successful and win these tournaments," Stanfill said. With a deep team from top to bottom, this is very much attainable for a program looking to continue its regional and state dominance of the links.
Secondary Content
Bottom Content