Section Branding
Header Content
Greenbrier Aiming For Another Baseball Title
Primary Content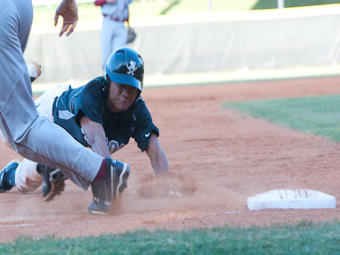 The Greenbrier baseball program has seen its share of success since 1997. The Wolf Pack has captured five state championships in that time period, though none have come since 2007. Winning another title is at the top of the list of priorities at the suburban Augusta school.
"If the year ends and we didn't win the state title, we're disappointed," said Greenbrier coach Chris Wilkins. "Our goals are to win the region and, ultimately, the state title."
After losing back-to-back games in mid-March, the Pack has reeled off eight straight wins and is now ranked No. 1 in the state by PrepCountry.com. Wilkins noticed one major part of his team's game that has arrived in a big way recently.
"We've been pitching and fielding well all year, but we've started hitting here lately," said Wilkins, when describing his team's play during the winning streak.
The numbers appear to back Wilkins' claim. In Greenbrier's first 15 games, the Pack scored in double figures four total times. But in the last three games, Wilkins' club has scored 12, 13 and 11 runs in three victories. With the talented pitching staff the Wolf Pack possesses, it will be tough to beat if it continues to score runs in bunches.
The pitching staff is led by senior Jordan Hunt and juniors Austin Robinson and Christian Hill. Robinson is 5-0 in seven starts with a spiffy 2.79 ERA. In four starts, Hunt is 3-0 with a 2.10 ERA. Hill, meanwhile, is 5-1 in four starts and seven appearances.
While Hunt is planning to play at Georgia Tech next year, Robinson and Hill are beginning to field calls from college programs.
Meanwhile, in the field, centerfielder Spencer Duffie and catcher Taylor Glover are the linchpins of a deadly lineup. Glover, a junior, has started since his freshman year. He is hitting .362 with a team-best 23 RBIs.
"He handles our pitchers well," said Wilkins. "He's a good kid and a hard worker."
Duffie, who is batting .345 with 19 RBIs, is a senior being recruiting by Georgia Southern and other SoCon programs.
"He's phenomenal," gushed Wilkins. "He's definitely one of our top contributors."
While Wilkins has been head coach at Greenbrier since 2009, he has not yet won a state title. But he feels that this team may be his best yet at GHS.
"It's the hardest working group I've had," said Wilkins. "And it's no coincidence we've had success."
Make no mistake about it the Wolf Pack has their sights set on one thing.
"It is extremely important to us to win state," said Wilkins. "It's why the kids work so hard."
Secondary Content
Bottom Content