Section Branding
Header Content
Walton Tennis Remains Dynasty Under New Coach
Primary Content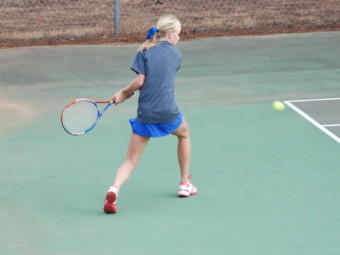 It is a streak so impressive that it has shattered all previous Georgia records and so notable that it warranted a mention in Tobias Moskowitz's and Jon Wertheim's book Sportscasting, a Freakonomics-style look at sports. The Walton girls tennis team has won 154 straight matches and eight straight GHSA state titles. Continuing the streak was thought to be a tall task entering the 2012 season, but Walton has merely continued to chug along.
Following last year's championship several seniors moved on to the next level and head coach Roberta Manheim stepped down to turn the program over to Christy Page. The new coach has pulled the strings to a 7-0 start to the year, and the Lady Raiders have qualified for the state playoffs. Walton will host Etowah today in the Region 5-AAAAA semifinals. Page's squad has defeated Etowah once this season, 4-1 on Mar. 8.
"My first year as a head coach has been great," said Page. "I have been given an amazing opportunity here at Walton. Page is a first time head coach at the varsity level that previously coached the Walton JV team. She noted that entering this season she was simply striving for a winning season, but the streak has continued. "The program's streak is something we all know is there, but we do not dwell on it."
After losing Emily Zabor, Maxie Weinberg, Stephanie Falcon and the other six seniors from one year ago, Page had to quickly rebuild the program, and she has toyed the the lineup over the season, shuffling players in and out. Freshman Suzanne Zenoni, who Page called "a standout," has been named the No. 1 singles player for the Lady Raiders. "Suzanne stepped into the No. 1 singles sport as a freshman and has played with more patience and determination than any player I have ever seen before. She has been an amazing asset to this team."
Zenoni joins several other important freshmen in the lineup including No. 3 singles player Johanna Keeline and doubles standouts Sophia Guldberg and Jessica Cramer. Katie Riley and Erica Bauer are both new to the team as sophomores.
"I was not the only new addition to the team this year," said Page. "With only two returning players the team has a completely new dynamic altogether."
The team's two returning players were juniors Melissa Mashburn and Emily Harte. Mashburn is slotted as the No. 2 singles player and has played well this year. "Mashburn and Harte have really stepped up and shown the younger girls what it is like to be a Walton Raider tennis player."
As in years past the Walton community has rallied around the team and the new coach. "We have been shown so much support from everyone," said Page. "I'm sure people would love to see the streak continue, but they would be very happy with the success we have had so far this season if the streak ended, especially with a completely new team."
Should the team run its streak to 155, the Lady Raiders would meet either Lassiter or Woodstock next Tuesday at Marietta High School for the region title. The team is seeking its 13th region title out of the last 14 seasons.
"As a head coach of any sport, your dream is to win a state title. To come in and win a state title as a first-year head coach would be above and beyond anything I could have hoped for," said Page of the thought of leading Walton to its 15th state title since 1989.
"I am thrilled to have made it undefeated through the regular season and hope (we) play well in the state tournament."
The GHSA state tournament begins April 23.
Secondary Content
Bottom Content