Section Branding
Header Content
GHSA Unveils Class A Power Ratings System
Primary Content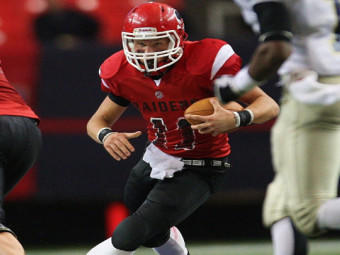 Thursday the GHSA unveiled its plan for the 2012-13 and 2013-14 seasons when several Class A postseasons, including football, will be split into a private school bracket and public school bracket. Under the new rating system, two 16-team brackets will be constructed by a committee consisting of the GHSA Executive Director, the GHSA assistant director and two GHSA Executive Committee members, who will meet after the last playing date of the regular season.
According to the proposed regulations, the committee "shall have the authority to make all rulings necessary and prepare to apply the intent of the rules governing the state playoffs and situations including the wildcard program, which may not be covered by the rules." Schools will be given a period of 24 hours to review the rankings and request a correction to a win-loss record.
Perhaps the biggest change proposed is the elimination of automatic bids to anyone other than the region champions. In the new plan, only the team "certified as the first place representative from the region shall automatically qualify for the state playoffs from that region."
The region champions will then receive a seed at the top of the bracket based on the order of the power rankings according to the GHSA's plan. The seeding will breakdown much like the NCAA's basketball seeding in 1 vs. 16, 2 vs. 15, etc., with the better seed hosting through the semifinal round. Once the region champions are seeded out based on power rankings, the rest of the field will be determined using a new formula consisting of strength of schedule, opponent's classification and several other factors. A three-step tiebreaker system is also in place to help the committee with the ranking.
The split was necessary after nearly 40 south Georgia Class A public schools threatened to pull out of the GHSA after the most recent batch of reclassification as they felt the private schools had too much of an advantage. Many private school ADs and coaches have expressed displeasure of the playoff split including Athens Christian's Ron Link and Savannah Christian Prep's Donald Chumley. Said Link of the split, "I think the reclassification was done in a rush to satisfy the south Georgia schools who have a problem with the 'private and Christian' schools."
Chumley, who led Savannah Christian to the 2011 Class A football championship, was also not in favor of splitting Class A. Chumley told Score Atlanta back in January that the GHSA should adopt a point system. However, Chumley still wished things could have remained the same. "It will never be right one way of the other. This was not the way to go. The situation is sad."
Secondary Content
Bottom Content