Section Branding
Header Content
Business Of Sports Summit Returns To Atlanta
Primary Content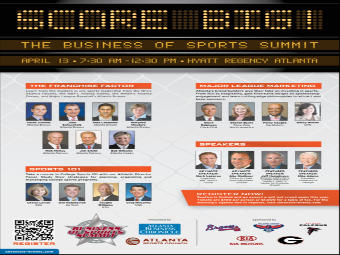 Sports marketing is a field that seems to be growing more and more every day. Those in the industry are constantly looking for new and better ways of conducting business in the ever-changing field. Next Friday the Atlanta Business Chronicle and the Atlanta Sports Council will offer the Second Annual Business of Sports Summit, a gathering that serves as a "State of the Union" for all parties involved.
Anyone interested in seeing what happens in front offices and athletic departments of professional and university sports organizations should make his/her way down to the Hyatt Regency for what promises to be an action-filled morning. Last year's sellout has led to a larger venue and more people are expected to attend the event next week. Representatives from the Atlanta Braves, Hawks, Dream, Falcons, University of Georgia, Georgia Tech, Kia, UPS, Coca-Cola, Chick-fil-A and more will be on hand, offering expertise on a number of topics.
"The size of the sports marketing business in metro Atlanta is enormous and growing dramatically," said Ed Baker, the Atlanta Business Chronicle publisher. "This is the community's annual opportunity to highlight the amazing things companies, teams, universities and event promoters are doing to continue to grow their business."
The event will feature three power panels to help attendees better understand the business side of sports. Some of the city's pro franchise leaders will discuss in one panel how to build a successful organization in baseball, football and basketball. Athletic directors from the state's four major universities will be on hand to reveal strategies for planning, organizing and managing some of the most successful college sports programs in the country. Important brand builders will be available to give their take on investing in sports. Attendees will want to hear this panel to gain insight on sponsorship engagement and how to attract and keep sponsors. New panelists will offer a fresh perspective as the Sports 101/College Sports Panel is brand new to the event. During each of the panels, attendees will have a chance to get their questions answered after a moderator kicks off the panel with several prepared topics.
The Business of Sports Summit will also feature four keynote speakers that folks will not want to miss. University of Georgia President Michael Adams will introduce the Sports 101/College panel and his UGA colleague Jeff Humphreys, the Director of UGA's Terry College of Business Simon S. Selig Jr. Center for Economic Growth. Dr. Humphreys will speak about the economic impact of sports in metro Atlanta and Georgia. Sports Business Journal's Editor-in-Chief Abe Madkour will then interview Mark Lazarus, the Chairman of NBC Sports Group. Lazarus will give an overview of his role at NBC as well as speak about his perspective on sports and the future of the business of sports.
The event takes place April 13 at the Hyatt Regency Atlanta from 7:30 AM - 12:30 PM. Cost for the event is just $100 and you can register online http://www.bizjournals.com/atlanta/event/57241. For Georgia Public Broadcasting viewers looking to take part in the Business of Sports Summit, type "GPB" in the discount box at the end of checkout to receive a $10 discount.
Secondary Content
Bottom Content