Section Branding
Header Content
McEachern's National Title Hopes Fall Short
Primary Content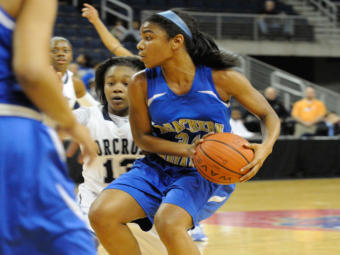 The McEachern Indians could not have made any stronger of a case for a national championship this season. Phyllis Arthur's squad marched through every opponent on its schedule, going 33-0 and capping the year with a GHSA Class AAAAA state championship last week in Gwinnett. The Indians defeated two-time defending champion Norcross to open the season and then again in the semifinals, and McEachern defeated three Tennessee powers, and schools from Alabama and Florida. After winning the Region 4-AAAAA title, the Indians won each playoff game by an average of 32.8 points. The championship game against Hillgrove was a runaway as McEachern began the game on a 20-4 run en route to a 69-36 victory.
McEachern's championship team featured six players with major conference offers including seniors Destinie Gibbs (Ole Miss), Kayla Montgomery (Clemson), Pachiyaanna Roberts (Syracuse) and Dominique Wilson (Arkansas), junior Mia Cooper (South Carolina) and freshman Te'a Cooper (North Carolina). Senior Mesha Morris, junior Joclyn Ramos and sophomore Declaria Daniels are all also on recruiting radars across the country.
With all of that talent, the McEachern girls deserved to be at or near the top of every national poll. As of Wednesday, the Indians sat at No. 2 in the Powerade FAB50 poll found on ESPN and No. 3 in the USA Today poll. In both polls, Saint Mary's (Phoenix, Ariz.) sat at No. 1 with a 30-0 record, but in Jim Halley's USA Today poll, Whitney Young (Chicago, Ill.) ranks No. 2 with a 34-0 record. Both polls will release one additional poll later this month.
According to Brandon Clay of Peach State Basketball, who votes for the Powerade FAB50, the poll is voted on by a committee inside ESPNHS. Said Clay in an email, "Without a 'national title game' we do the best we can as a group to see all of the teams from around the country and go from there. McEachern had a great season and regardless of their final national ranking, they have set the bar high for teams from around the state for years to come."
Several teams from across the country will take part in next week's ESPNHS National High School Invitational in Bethesda, Md. The top seed in the NHSI is Riverdale Baptist (Upper Marlboro, Md.) the nation's No. 6 team in the latest Powerade FAB50. Other teams include No. 28 Edgewater (Fla.), No. 22 Dr. Phillips (Fla.) and HD Woodson (Washington, D.C.)
McEachern was an incredible story this season, going undefeated while knocking off state and regional powers in each contest. While a national title appears out of reach, Arthur is still proud of her team.
"We will enjoy what we have and prepare for next season." Plenty of eyes will be on McEachern in 2012-13 and programs across the state will be out for revenge and a GHSA title.
Secondary Content
Bottom Content