Section Branding
Header Content
Cobb Continues Successful Soccer Streak
Primary Content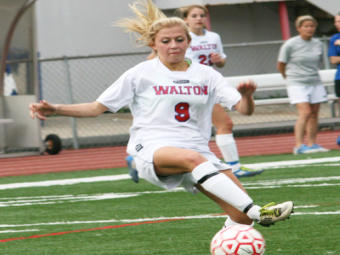 First, Walton football reached the state finals for the first time in school history. Then the McEachern girls basketball team not only won the state title, they did it without losing a game and made a case to be called national champion.
Now, the Lassiter boys soccer team is looking like they could win a national title if they continue the hot streak they are on. After losing to Collins Hill in the semifinals last year, the Trojans are back and they appear stronger than ever.
ESPN has the team ranked No. 1 in the country and they have beaten three teams in the ESPN Powerade Fab 50: which are No. 3 Centennial, No. 38 Collins Hill and No. 16 Parkview. The Trojans have a huge contest today when they face Wheeler (8-2), ranked No. 46 in the country.
Centennial has been playing good soccer of late. The team has fallen just once this year to Lassiter on March 3. Since that loss, the Knights shut out Alpharetta 4-0 and took apart Northview 6-1. The Knights did, however, tie Habersham Central 2-2 on Tuesday.
While the girls don't have as many teams ranked in the ESPN Powerade Fab 50, there are still a few teams that are looking to be on top of the poll when the season concludes. The Milton Lady Eagles are ranked No. 16 and have a 10-0-1 record. The tie came against St. Pius X on Tuesday, a team that is also undefeated and rank No. 36 in the ESPN poll.
Walton is not ranked in the ESPN poll, but if they continue to win games against quality opponents, ESPN will soon show the Lady Raiders some love. The Lady Raiders cruised past Wheeler 5-0 on Tuesday to improve their record to 8-1. They are ranked No. 2 in the AAAAA Prepcountry Coaches poll.
Speaking of Walton, it looks like the boys team is getting back on track. After losing three consecutive games earlier in the year, the defending AAAAA state champions have won four out of its last five games. Goalkeeper Alex McCaluey gave up only one goal in the last four wins for the Raiders.
Secondary Content
Bottom Content