Section Branding
Header Content
Mariah Stackhouse Is Golf's Next Big Thing
Primary Content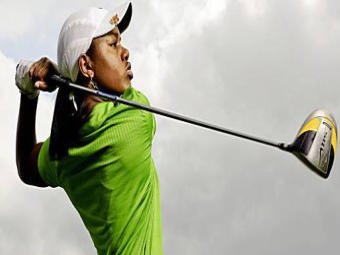 A young African American golfer lights up the junior circuit before deciding to tee it up at Stanford with an eye on the big tour in the future. Stop me if you've heard this before. North Clayton senior Mariah Stackhouse recently claimed her fifth straight co-player of the year award by the Georgia State Golf Association, becoming just the third player to ever pull that feat off. Stackhouse has also represented the country in the PING Junior Solheim Cup, won the Georgia Women's Amateur Championship, the PGA Georgia Women's Open Championship, the USGA Women's State Team championship, and played in the 2011 US Women's Open. And Stackhouse just turned 18 last week.
Stackhouse, who was introduced to the game at the age of two by her father, has won 44 championships since 2001. "I would definitely say it has been a product of hard work," said Stackhouse of her success. Her five straight Georgia State Golf Association player of the year honors is an accomplishment only two others have even achieved before her. "After I received (the honor) the first time, I definitely made it a goal to see how many years I could recapture the title."
Early on in her high school career, Stackhouse made her mark in the GHSA championships. As a freshman in 2009, Stackhouse earned low medalist honors for Class AAAA and bettered her score one year later as a sophomore to earn medalist honors again. In 2011, Stackhouse won the Low Amateur Medalist honor, but this time the honor came from the US Women's Open event. Stackhouse was the youngest African-American female ever to appear in the US Women's Open, and she hopes to take away important lessons from the weekend. "I used (the Open appearance) as an experience to show just how much is required at the highest level of women's professional golf." As for being the youngest African-American qualifier, it is nothing new for Stackhouse. "Ever since I began playing, there have been few African American girls competing along with me so I've never paid any attention to the fact. I desire only to become the best golfer I can be, color aside."
Last season was a busy year for Stackhouse with the US Open, the AJGA, the Exide Technology Jr. Open championship, the victory at Steelwood, the win at the Bill Dickey Junior Invitational and the PING Junior Solheim Cup in Ireland. She made it through though, loving every minute of it. "I love traveling to new places and meeting new people, which is one of the reasons I love golf," gushed Stackhouse.
The year ended with a commitment to Stanford in November. "Academics has always been the most important focus in my life," said Stackhouse of her decision to attend Stanford. "As I began to explore college options, I focused on schools like Duke and Stanford for this reason. I chose Stanford because it's a highly ranked university, the golf facilities are superb, and I felt at home on my unofficial visits."
For now, North Clayton's 2011 Homecoming Queen is enjoying her senior year while getting ready to head west to Palo Alto. Golf is a 365-day sport but Stackhouse does manage to find some time to be with her friends. "I have full practices on the weekends and I practice as much as possible during the week, but it is good to have free time to hang out and be a regular teen," Stackhouse admitted. "I'm a very social person so I make sure to have fun."
Tiger Woods spent two years at Stanford before moving on to a brilliant PGA career which has included 14 major championships to this point. Many will try and peg Stackhouse as the female Woods, which she says is flattering but not accurate. "He was well ahead of me in development at this age so while flattering, it's a far stretch and I don't pay it much mind." She also noted that she plans to stay at Stanford for four years, unlike Woods.
Can she be the next Tiger Woods, or the first Mariah? Her summer plans are certainly ambitious. "I'll begin to focus on playing in amateur events to better my amateur ranking," revealed Stackhouse. "This will be the first year that I'm able to compete in the US Women's Amateur, so my goal is to qualify and see what it takes to win that event." Stackhouse also is aiming to once again qualify for the US Open and stay for the weekend. "Lastly I'd like to win an AJGA Invitational before I'm done with junior golf." Her junior golf career may soon be coming to an end, but odds are you'll be hearing the name Mariah Stackhouse for years to come.
Secondary Content
Bottom Content