Section Branding
Header Content
Lambert Lacrosse The Class Of The State
Primary Content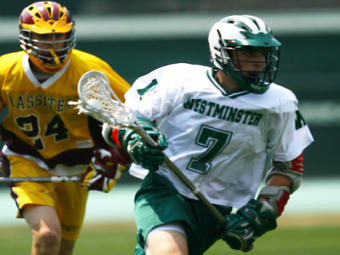 Area 3, Class A-AAAA-leading Lambert won two big games in the past week, first defeating Class AAAAA powers Walton 10-8 on Tuesday and Roswell 10-3 on Saturday. Like their male counterparts, Lambert's girls squad had a successful week. The Longhorns won games against Wesleyan on Wednesday (18-14) and North Forsyth (16-8) Saturday. However, South Forsyth beat Lambert 10-6 on Friday.
Peachtree Ridge defeated Grayson 12-8 Saturday as twin brothers Steven and Jacob Lee each scored three goals. The twins were celebrating their 16th birthday.
Area 4, Class A-AAAA is led by Marist, as the War Eagles boast a 3-0 record in area play. Marist enjoyed a dominant week by shutting out area rivals Dunwoody (14-0) and Druid Hills (18-0). Area 2, Class A-AAAA Westminster lost a 12-6 affair to Class AAAAA power Milton 12-6 on Wednesday, but defeated Decatur 8-6 Saturday. The win over the Bulldogs was a crucial match in Class A-AAAA, as it pitted two serious contenders from different regions. Decatur is undefeated in Area 4, while the Wildcats are tied for the lead in Area 2.
The match of the week this week may be the Lassiter-Milton game, as the Trojans travel to Milton Thursday. The two programs are among the favorites to win the Class AAAAA title and each are leading their respective areas thus far. The Trojans spent last week by outclassing the competition, as Harrison (9-3) and Northview (7-5) became Lassiter's latest victims. Coach Brendan Leezer's team is now 7-0.
Perennial Class A-AAAA power Lovett split two games last week, defeating Whitewater 16-3 and losing to Pope 7-4. The Lions face a tough test Saturday, when Lambert pays a visit.
The Milton girls improved their record to 5-0 with wins over out-of-state competition over the weekend. The host Eagles defeated Episcopal (Va.) 18-0 Friday before taking down Cy-Fair (Texas) 15-3 Saturday. This week, Milton travels to Northview on Tuesday and West Forsyth Thursday.
Westminster's girls lacrosse team edged Episcopal (Va.) 11-10 Wednesday before outscoring Chattahoochee 16-12 Thursday. The high-scoring Wildcats are 6-0 and have scored at least 11 goals in each game.
Peachtree Ridge and Mill Creek will butt heads on Wednesday in a bigtime girls match. The Lions are 7-1, while the Hawks will enter the match 8-0. Peachtree Ridge was handed its lone loss this season when Mill Creek defeated the Lions 15-6 on Feb. 25.
Secondary Content
Bottom Content