Section Branding
Header Content
Parker, Goodwin Receive McDonald's Honor
Primary Content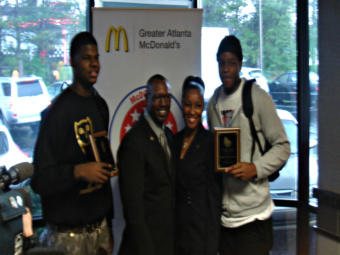 For 35 years, McDonald's has been honoring the best high school basketball players in the country and former Georgia standouts such as Dwight Howard, Josh Smith, Derrick Favors and Kentavious Caldwell-Pope have earned the honor over the last 10 years.
On Wednesday, two more players were recognized and honored at a Lithonia McDonald's as Miller Grove's Tony Parker and Southwest DeKalb's William "Shaq" Goodwin were presented with All-American plaques. Friends, family, teammates and coaches all gathered inside the Panola Road McDonald's as Goodwin and Parker accepted their awards and invitations to the 35th Annual McDonald's All-American Game which will be played Wednesday, March 28 in Chicago.
Southwest DeKalb players wore "Team Shaq" shirts as Goodwin accepted his award. "Three years ago I'd never have thought I'd be here," said a humbled Goodwin. Before the event started an obviously-excited Goodwin worked the room, shaking everyone's hand, smiling for each photo and thanking his supporters. "It is a great honor (to be a McDonald's All-American)," continued Goodwin after being recognized.
The Southwest DeKalb power forward, whose team finished runner-up to Parker's Miller Grove squad in the AAAA finals last Friday night, also won the 2012 AJC Slam Dunk championship. He will head to Memphis next season, where he hopes to play both basketball and football.
Tony Parker thanked his mother, his teammates and his coach, Sharman White, during his acceptance speech. "Thank you to Coach White for being on me for four long years," laughed Parker at the podium. Parker noted that he had been working all of his life for this honor and for what comes after the game: college. "You really have to know the ins and outs of schools," said Parker of trying to decide which school he will attend next year. "You have to take your family into consideration."
Many speculate that Parker will announce his choice at the McDonald's All-American game. Kansas, UCLA, Duke and Ohio State lead, but Parker did admit that Georgia "has a chance." Teammate Brandon Morris has committed to Mark Fox's program, while former teammate Donte Williams started nearly the entire season for the Dawgs this year.
For the first time in the 35 years of the McDonald's All-American game, two Georgia players who faced each other for a championship will be teammates in the game. This fact was not lost on Parker. "We grew up together."
White was proud that DeKalb County will be represented by these two young men in Chicago. "I would like to commend both of these young men," said White. "They are what it is all about. I am proud to be associated with both of them. And I'm glad Shaq's moving on too."
These two recruits were certainly humbled and honored to be named McDonald's All-Americans, and both should proudly represent the state and show the rest of the nation that Georgia is home to some of the best talent in the country.
Secondary Content
Bottom Content