Section Branding
Header Content
Wesleyan, Columbia Among Winners In Macon
Primary Content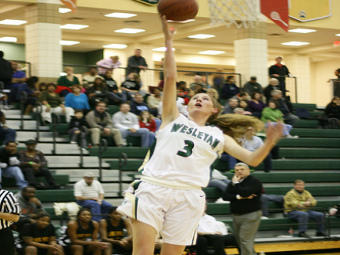 The discussion can begin whether Wesleyan's Jan Azar is the greatest girls basketball coach in GHSA history. Azar's Wolves dominated Southwest Atlanta Christian Academy 68-44 to win a fifth straight GHSA title (the last four Class A titles and the 2008 Class AA crown), and ninth since 2002. In Saturday's contest, neither team could find the basket early until Katie Frerking hit a three with 4:40 to play in the first quarter. Frerking wouldn't miss much after that. The junior tallied 20 points and three blocks while senior Holli Wilkins tallied 19 points in her final game as a Wesleyan Wolf. Wesleyan used a 22-1 run that spanned the first and second quarters to pull away as SACA would pull no closer than 18 points in the second half. Shavontae Naylor had 15 points for the Warriors in her final game.
Buford's run at the top of Class AA ended with a 52-42 loss at the hands of region rival Lovett. Tatianna Jackson scored 20 points and Christen Johnson tallied eight of her 12 in the fourth quarter to put the Wolves away. Buford fell behind by 12 in the third quarter, but Kaela Davis and Andraya Carter rallied the Wolves back. Davis finished with 14 points while Carter played through pain to come up with key play after key play to pull the Wolves within four. Lovett's star junior Sydney Umeri finished with 13 points to help Lovett keep Buford at arm's length to claim the title.
The Columbia Eagles managed to end Washington County's 63-game winning streak and spoil a repeat bid by the Golden Hawks. Miah Spencer finished with 15 points while Zuri Frost had nine to help Columbia to a 57-33 win. Georgia Gatorade Player of the Year Allisha Gray finished with just 14 points after going for 40 in the semifinals. Kadeeja Vaughn posted a double-double down low (17, 16) to pace the Eagles, who led 33-16 at the half. The Eagles polished off Washington County with a 13-0 run in the fourth to erase all doubt.
The University of Georgia is getting a good one. Kenny Gaines scored 24 points and wowed the Macon Coliseum crowd with some highlight dunks in Whitefield Academy's 73-50 win over Athens Christian in the Class A boys final. Whitefield led 10-2 early and pulled away with a 9-0 run to begin the second quarter. Freshman Will Jackson led Athens Christian with 20 points while Whitefield received another 18 from sophomore Eric Lockhart.
Manchester made its first finals appearance since winning the 2007 GHSA championship but the Blue Devils seemed to miss the first three quarters. Laney took advantage and built an insurmountable lead before holding on for the 67-53 win. Jammie West had 14 first-half points before finishing with 20. Daniel Harris scored all 12 of his in the second half for the Laney Wildcats. Zay Echols of Manchester led all scorers with 29 points, including 17 in the final period as Manchester tried to rally back. He hit five three-pointers during the fourth quarter. Saiquan Terry, Manchester's leading scorer finished with just four points.
Columbia claimed its third straight Class AAA boys title with a 65-46 win over Drew. Tahj Shamsid-Deen scored 17 and Jhaustin Thomas added 11 in the victory. The Eagles overcame a slow tempo due to heavy whistles from the officials, ending the game on a 12-0 run to ice the title. Derrick Frye scored 13 for Drew, who made the finals in just the program's third year of existence
Secondary Content
Bottom Content