Section Branding
Header Content
Harrison Looks To Spring Semifinal Upset
Primary Content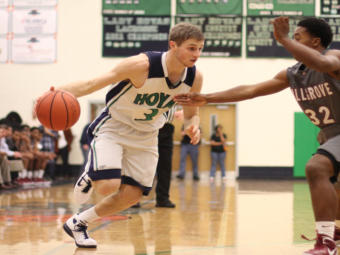 Entering the state tournament as a No. 3 seed, not many people thought Harrison would advance to the quarterfinals, much less the final four. Led by a tight group of seniors, however, the Hoyas made it to the semifinals for the first time in the school's history.
But don't tell Harrison they are a team of destiny; the Hoyas don't believe in it.
"We don't feel like we're destined for anything," said Harrison coach Robert Churchwell about his team's Cinderella story. "We have to take what's ours."
After taking down more highly-regarded opponents in Johnson-Savannah, Valdosta and M.L. King on the way to the semis, Harrison now faces No. 1 Milton. While the Eagles will be missing starter Charles Mann who was suspended after the quarterfinal, Churchwell knows they will be just as strong as ever.
"Sometimes an injured animal is more dangerous," said Harrison coach Robert Churchwell. "We can't worry about their injuries, we need to do what we do."
Although his team respects the challenge that lies ahead, Churchwell's squad won't be intimidated. Their goal is to be the best. And there is only one way to get there.
"To be the best, you gotta beat the best," said Churchwell, quoting the famous Ric Flair line.
The former Georgetown hoops star knows about being the best. Playing in the Big East for the Hoyas taught him about what it means to rise to challenges no matter who his team plays.
Like his college team, Harrison plays tough defense. During their surprising run through the state tourney, the Hoyas have not given up more than 61 points yet. Tonight in the semifinal against Milton, the Eagles will surely push that 61-point limit. But one thing is for sure, Churchwell's Hoyas will not make it easy for them.
Secondary Content
Bottom Content