Section Branding
Header Content
Georgia Teams Playing Outside State Lines
Primary Content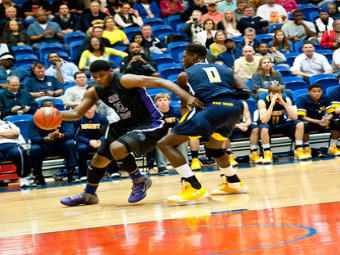 Some of the elite Georgia high school football programs have been facing off with various national powers over the last few years, with Colquitt County taking on all comers and Camden County, North Gwinnett and Buford taking part in various invitationals. This year, many of the teams still competing for a state championship steeled themselves with national schedules that have them in a position to hoist some state hardware.
The Miller Grove boys were one of the teams that took on some of the nation's top teams and lived to tell about it. Sharman White's squad faced ESPN's No. 3 team Oak Hill Academy (Va.) and No. 1 squad Simeon (Ill.) before taking part in the Bass Pro Tournament of Champions in Springfield, Mo.
"You have to embrace (the tough schedule)," said White. "It will pay off when it comes to tournament time."
Miller Grove has several players that were some of the top recruits in the country, so the Wolverines were an attractive team for national networks, thus opening up opportunities for a national showdown. ESPN wanted eyeballs on Tony Parker, one of the nation's top uncommitted recruits, as well as Tony Evans and Georgia-bound Brandon Morris.
The Wesleyan girls were another team that sought out competition outside of the state's border. Jan Azar's squad, including Jordan Frazier, Holli Wilkins, Kaelyn Causwell and Katie Frerking got the better of quite a few teams in the Nike Tournament of Champions in Phoenix. Wesleyan went 2-2 against some of the nation's best, beating Christ The King (N.Y.) and Incarnate Word Academy (Mo.). Wesleyan would later take out Oak Hill Academy (Va.) in a local tournament.
The Buford girls also traveled to Phoenix for the Nike Tournament of Champions and racked up an important win. Gene Durden's crew edged St. Johns College, an important win considering the team was without star Andraya Carter. Buford also defeated Germantown Academy (Pa.) in yet another national event. Carter will head to Tennessee next year, where teammate Kaela Davis was scheduled to join her, but now is exploring her options.
Angie Hembree's Norcross Lady Blue Devils participated in a number of events including the Border Battle against Hoover (Ala.), the Crescent Bank Invitational against St. James (S.C.) and Spring Valley (S.C.), the Battle of the Southeast against nationally-ranked Riverdale (Tenn.) and The Kay Yow Girls Night Out, where the opponent was Center Point (Ala.). Hembree believes these events help prepare her team for the tough grind of the playoffs and she appears to be right. Her team, including junior star Diamond DeShields is trying to win a third-straight Class AAAAA crown.
One semifinal team with perhaps the most success against a national schedule is the Milton boys. Coach David Boyd took his team to the Beach Ball Classic in Myrtle Beach, S.C. The Eagles throttled Miami (Fla.), Ballard (Ky.), Bishop Gorman (Nev.) and Lone Peak (Utah). When Milton, led by Evan Nolte, Shaq Johnson and Tevin Glass, tagged Bishop Gorman the Gaels were ranked No. 9 in the country.
McEachern may argue though as the Lady Indians have gone undefeated this year, blowing away most of the in-state competition just as they have out of state foes. Phyllis Arthur's squad has beaten teams from Tennessee (Riverdale, Overton-Memphis, Memphis-Central) Florida (Hollywood Christian) and Alabama (Hoover). The 31-0 McEachern Indians, led by Pachis Roberts, have their sights set on a state title, but nationally-tested Norcross awaits in the semifinal round. The two teams on the other side of the bracket coincidentally are Lexie Brown and North Gwinnett (3-0 vs. national foes) and Hillgrove, which has not faced a team from outside the Georgia border.
While these are just a few of the teams remaining that achieved some success, other schools took part in various events that challenged the national elite. Shiloh hosted the Big Apple vs. Big Peach Battle over Thanksgiving, featuring Columbia, Lovejoy, Norcross, Shiloh and Westlake. Later the Norcross Blue Devils hosted the Hilton Invitational that saw Berkmar face Dr. Phillips (Fla.), Charlotte Christian (N.C.) against Archer, Wheeler against Olympic (N.C.) and Columbia square off with United Faith (N.C.).
Holiday tournaments have long been a tradition of high school teams in Georgia, but with the talent pool growing increasingly deeper, national powers are looking for competition inside the Peach State. If Georgia keeps improving and ramping up its game both on the girls and boys side, the state could soon be known alongside New York, Indiana, Tennessee and California for producing the country's finest talent. As it stands now, Georgia is expanding its borders and accepting all challengers from near and far. The top teams in the state have done a fine job this year of representing Georgia and that isn't likely to change soon.
Secondary Content
Bottom Content