Section Branding
Header Content
Alpharetta Building Character With Each Win
Primary Content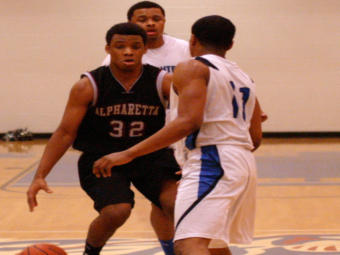 Like another Cinderella, Harrison, Alpharetta entered the state tournament as a No. 3 seed and is participating in the school's first final four. But the Raiders may have been even more of a longshot to get to Gwinnett, as they were seeded fifth going into the Region 6-AAAAA tournament. But coach Fredrick Hurt's squad made the best of its tough-luck regular season.
"It's exciting," said Hurt. "I'm not sure when the tournament began that many would have put us in the Final Four."
And despite the team's 14-11 regular season record, the Raiders have played like champions thus far in the playoffs. Where did this all come from? Hurt says it was there all along, but several close losses muddied his team's reputation.
"Our record is kind of misleading," said Hurt. "We lost six games that came down to the last play of the game."
Hurt attributes his team's resiliency to the character and teamwork it built during those tough losses.
"I am proud of our guys. We stuck to our 'we not me' motto," said Hurt. "We learned to do what is best for Alpharetta, not us as individuals."
Another thing that has helped the Raiders is junior point guard Ty Toney, who is averaging 31 points in the state playoffs. In the quarterfinal win over Berkmar, Toney scored 31 points while notching nine assists and nine rebounds.
Alpharetta is preparing to play Savannah in the Class AAAAA semifinals tomorrow at 5:30 p.m. in Gwinnett. Being from a different part of the state, Hurt doesn't know much about the Blue Jackets but was busy preparing for them Monday during our interview.
"I found out they play 10 kids and sub five at a time," said Hurt about his next opponent. Hurt also mentioned his team had played other programs in the playoffs with similar styles to the Blue Jackets, though not exactly the same.
"Lassiter plays a half-court pressure defense and Peachtree Ridge plays a full-court pressure style like Savannah does," said Hurt about the Jackets' high-pressure, wear-you-down style of defense.
Hurt's Raiders are now one of the surprises of the tournament, despite several close losses during the season. Now they are in Gwinnett with a chance to make the state finals. Did someone say "glass slipper?"
Secondary Content
Bottom Content