Section Branding
Header Content
Semifinalists Move To The Top Of Latest Poll
Primary Content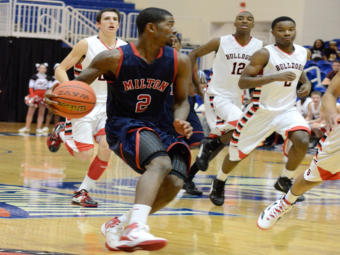 With three rounds of playoffs in the books, 40 teams remain with a chance to claim a GHSA basketball championship. You will find each of those 40 teams ranked in this week's poll. However you may also find that the four semifinalists do not necessarily occupy the top four spots in each poll. As much as folks like the tournament-style format of the playoffs to determine a champion, one should not overlook the regular season when ranking the top teams from each classification as a team can be strong over the course of the year but slip up in the postseason and be done. That team should not just be thrown out of the rankings because of a loss. These rankings try to blend postseason success with regular season success and give the best 10 teams for each class.
Milton remains in the top spot of the boys Class AAAAA rankings, though, with the loss of Charles Mann, the Eagles will need their other superstars to step up if they are to the school's second title in three years. Alpharetta has been raising eyebrows all postseason and could not be denied after disposing of Berkmar and Peachtree Ridge, a pair of region champions. Miller Grove and Southwest DeKalb are region foes in Region 6-AAAA, but those are the two best teams in the state in boys AAAA. Columbia just beat Carrollton in the AAA quarterfinals, but Carrollton remains No. 2 for now because of a 26-4 overall record. That game could have easily been for a state championship. In AA, Dawson County moved into the top 10 despite a quarterfinals loss as the Tigers made a strong postseason run, validating a tremendous regular season. Jordan needed some late magic to put Dawson County down. Vidalia is the new No. 1 team after Manchester ended GAC's three-peat bid. In Class A, Whitefield Academy remains No. 1. North Cobb Christian, despite a first-round loss, checks in at No. 5 because of a powerful regular season.
In Class AAAAA girls, McEachern's undefeated streak and prior win over Norcross has the Indians just ahead of the Blue Devils in the latest poll. Despite suffering its first and only loss of the season Saturday, Parkview fell to No. 3 in the state after a tremendous season. Semifinalists North Gwinnett and Hillgrove round out the top five. Miller Grove and Alcovy both moved up after quarterfinal victories while defending champion Fayette County's season came to an end. The Tigers fell to No. 4. In AAA, Washington County won its 62nd straight game and held onto the top spot in the latest poll. Westover, Crisp County, Troup and Monroe occupy the No. 7-10 spots in Class AAA. Region 6-AA foes Buford and Lovett sit in the No. 2 and No. 3 spots in Class AA, behind Laney. Morgan County checks in at No. 4 just ahead of semifinalist Brooks County. Finally, Wesleyan holds onto the top spot in Class A, ahead of Southwest Atlanta Christian. St. Francis is No. 3 despite losing to SACA over the weekend. Calvary Day checks in at No. 9 based on a strong regular season that was spoiled by a first round loss.
Boys Basketball Rankings
CLASS AAAAA
1. Milton
2. Alpharetta
3. Savannah
4. Harrison
5. North Gwinnett
6. Berkmar
7. North Cobb
8. ML King
9. Stephenson
10. Shiloh
CLASS AAAA
1. Miller Grove
2. Southwest DeKalb
3. North Clayton
4. Jonesboro
5. Chattahoochee
6. Alcovy
7. Douglas County
8. Lovejoy
9. Brunswick
10. Rockdale County
CLASS AAA
1. Columbia
2. Carrollton
3. Drew
4. Allatoona
5. Eagles Landing
6. Washington
7. Crisp County
8. Westside-Augusta
9. Central-Macon
10. North Hall
CLASS AA
1. Vidalia
2. Jordan
3. Manchester
4. Laney
5. GAC
6. Albany
7. Dawson County
8. Buford
9. Morgan County
10. East Hall
CLASS A
1. Whitefield Academy
2. Lanier County
3. Athens Christian
4. Turner County
5. North Cobb Christian
6. Mt. Pisgah
7. Wilkinson County
8. Mitchell County
9. Wilcox County
10. Aquinas
Girls Basketball Poll
CLASS AAAAA
1. McEachern
2. Norcross
3. Parkview
4. North Gwinnett
5. Hillgrove
6. Harrison
7. Marietta
8. Stephenson
9. Mill Creek
10. Westlake
CLASS AAAA
1. Miller Grove
2. Alcovy
3. Jonesboro
4. Fayette County
5. Chamblee
6. Southwest DeKalb
7. Statesboro
8. Rome
9. Forest Park
10. Creekview
CLASS AAA
1. Washington County
2. Columbia
3. North Hall
4. Westside-Augusta
5. Carrollton
6. Allatoona
7. Westover
8. Crisp County
9. Troup
10. Monroe
CLASS AA
1. Laney
2. Buford
3. Lovett
4. Morgan County
5. Brooks County
6. Model
7. East Hall
8. Heard County
9. GAC
10. North Oconee
CLASS A
1. Wesleyan
2. Southwest Atlanta Christian
3. St. Francis
4. Taylor County
5. Charlton County
6. Darlington
7. Mitchell County
8. Pelham
9. Calvary Day
10. Towns County
Secondary Content
Bottom Content