Section Branding
Header Content
Hoops Coaches Speak On Reclassification
Primary Content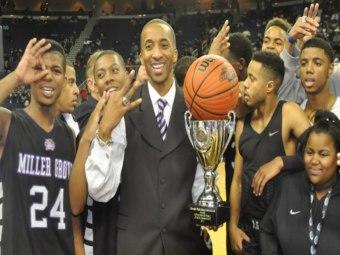 Enjoy the exciting basketball the 2012 GHSA semifinals and finals offer because beginning next year, the championship tournaments will look completely different. Beginning next season the GHSA will reclassify all of its member schools into six classifications, and seven trophies will be handed out as the Class A playoffs will be split into a public bracket and a private bracket. Many schools will move up at least one class with several school jumping up two classifications, based on attendance.
What will that mean for the championships? Should the Wesleyan girls capture a fourth straight Class A title this weekend, the Wolves wouldn't be around next year to defend the crown as Wesleyan has been bumped up to Class AA. The Wolves aren't strangers to the Class AA scene however as Jan Azar's bunch won the 2004-06 and 2008 Class AA crowns before dropping down to Class A in 2009.
And even if Wesleyan had been staying in Class A, a new Class A champion would be crowned regardless as the GHSA has decided to split the playoffs into a public bracket and a private bracket, awarding two championships in the state's smallest classification.
The decision to split has not gone over well with many private school coaches and ADs, who have stated that they moved to the GHSA because they wanted to play the best. Athens Christian boys coach Ron Link is competing for the Class A trophy this week, but even if the Eagles win, he won't truly have a chance to defend it next season. His program would be siphoned off into a private bracket next season to compete against other private schools.
"I think the reclassification was done in a rush to satisfy the south Georgia schools who have a problem with the 'private and Christian' schools," said Link about the 2013 reclassification.
Athens Christian would remain Region 8-A with mostly the same faces, but it would be the postseason that irks Link the most about next year's plan. "There needs to be a lot of work still done on it, but we are just going to have to live with it."
Link admits that if Athens Christian had known about the reclassification, the school likely would have elected to move up to Class AA, where the private and public schools will still compete against one another in the playoffs. "But that option (to move up) as of now is not on the table."
The Buford girls have won the last three Class AA crowns, and even if Gene Durden's crew wins a fourth straight, fresh blood will take the 2013 title as the Wolves are moving up to Class AAA. Much like facing a daunting national schedule this year, Durden is looking to take on this next challenge of moving up in classification head on.
"I am looking forward to moving up to AAA because our program always likes the challenge of playing the best possible teams in our area," said Durden of how the move will impact his team. "It will be refreshing to play different people at the region and state playoff level if we are able to make the state playoffs."
Buford will move into Region 7-B AAA and be in a sub-region with East Hall and compete for a region title with North Hall and White County.
"We are very excited to be going into our new region," continued Durden. "The region we are going into has very good tradition in girls basketball, and we look forward to playing these programs." A new travel schedule also has Durden pleased with reclassification. "We feel the travel and fan attendance in our new region will be better because of some of the communities in the new region really support their programs. We will not miss the travel into the the inner parts of Atlanta due to the traffic."
Buford will be leaving behind current region foes GAC and Lovett, the latter a team that Buford could end up facing for this year's Class AA title. "It will be tough leaving some of our rivals, especially GAC and Lovett. They have really strong girls basketball programs and playing this level of competition does nothing but help when it comes to playoff time."
A large grouping of DeKalb County powers in one region of Class AAAAA could leave one or two out of the playoffs each year based on sub-region finishes. Region 6B-AAAAA will feature current Class AAAA semifinalists Southwest DeKalb and Miller Grove as well as AAAAA quarterfinalist ML King and Mays. Stephenson sits on the other side of the region. The team that makes it out of that region tournament can certainly say it is battle-tested but will too much have been drained to compete for a new Class AAAAA title? Miller Grove's Sharman White acknowledges that his new region will be stacked. "There's not a whole lot you can do about (the reclassification). We still have to perform if we want to continue to be successful next year."
Miller Grove knows it will be in for battles all season long with a region that may be the toughest in all of the state. "It will pay off when it comes to tournament time," said White. "The competition only gets you better prepared."
White's Wolverines will have a shot at a fourth straight, which would tie a record for consecutive boys titles. Westover won four straight GHSA Class AAA titles (1990-1993) and Lanier won four in a row (1925-1928) in GHSA's Class A. Miller Grove would not have a chance to make history with five straight Class AAAA titles, something that White has mixed emotions about. "We won't have a chance to make history, so we'll have to take it up another notch (to AAAAA). We'll have a chance to go after something new."
For Class AAAAAA, it seems as though the reclassification committee took the best of the current Class AAAAA and simply moved those schools up, eliminating all of the excess fluff. Gwinnett County is broken down over two regions, as is Cobb County.
Coaches seem to have mixed feelings on how the reclassification plays out, but you can bet that come next February and March, all of the coaches in the tournament field will be focused on securing a GHSA basketball title.
Secondary Content
Bottom Content